Russian Flag Flies over Occupied Parliament in Ukraine's Crimea
TEHRAN (Tasnim) - A group of armed men have reportedly seized the government headquarters and the parliament in Simferopol, the capital of Ukraine's Crimea region, amid growing concerns over the issue of pro-Russia separatism.
February, 27, 2014 - 16:24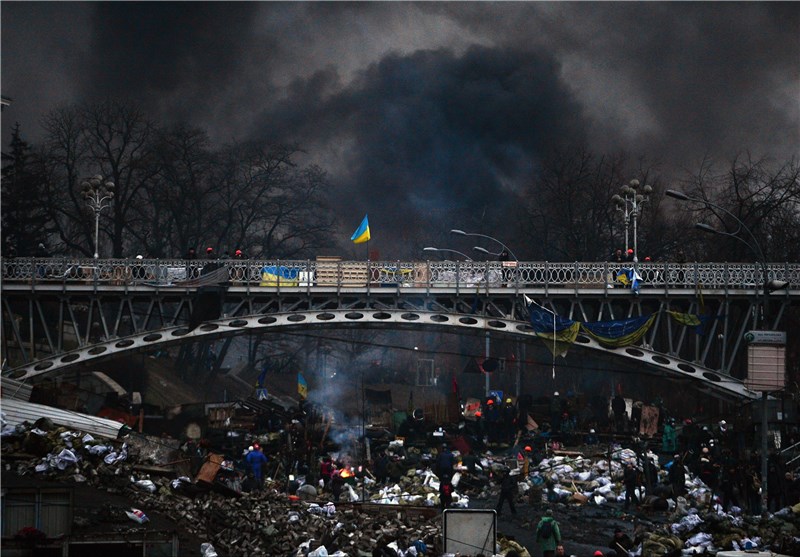 Refat Chubarov, a local Tatar leader, wrote on his Facebook page that the two buildings had been occupied by "armed men in uniforms that do not bear any recognisable insignia".
About 100 police were gathered in front of the parliament building, where a Russian flag could be seen flying overhead.
Doors into the building appeared to have been blocked by wooden crates and the surrounding streets were mostly deserted apart from people heading to work, AFP reported.
An estimated 60 people were believed to be holed up inside the building, which was taken in the early hours of Thursday, the Interfax news agency quoted a witness as saying.
The seizure of the building was confirmed by acting interior minister Arsen Avakov, who said the attackers had automatic weapons and machine guns. Avakov added that the police and interior ministry troops had been put on alert in response to the incident.
Many in Crimea, the only Ukrainian region with an ethnic Russian majority, oppose the country's new government, which came into power after former president Viktor Yanukovich was ousted on Saturday.
Mounting tensions in Crimea have prompted Ukraine's leadership to voice their growing concern over separatism in the region.
Meanwhile, Russia's Foreign Ministry said on Thursday that it will defend the rights of its compatriots in Ukraine.
"Russia's Foreign Ministry will continue to defend in the international arena the rights of its compatriots, it will strongly and uncompromisingly react when they are violated," the ministry said on Twitter.