President: Iran's Military Might Creates Balance in Region, Deters Threats
TEHRAN (Tasnim) - Iranian President Hassan Rouhani reiterated that the military power of the country's Armed Forces has enabled the Islamic Republic to create balance in the region, stressing that such capabilities are solely aimed at deterring the possible foreign threats.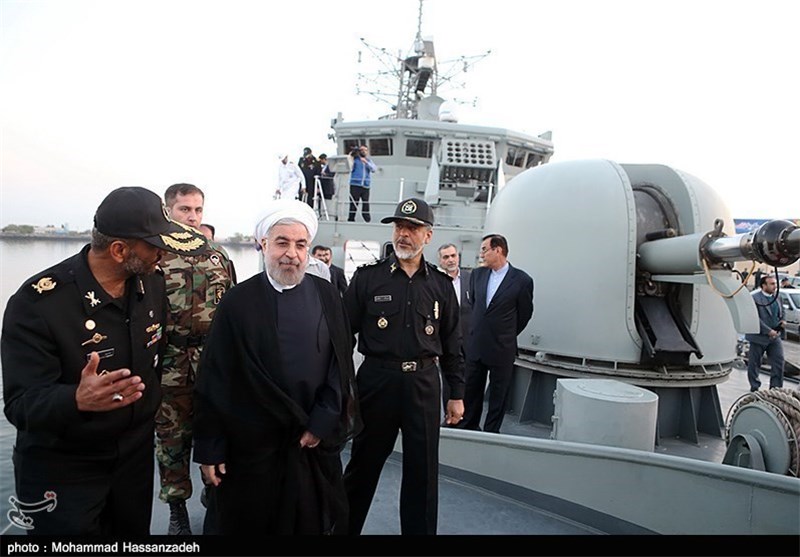 "When there exists mighty (armed) force (in Iran), it means that we can create balance across the region," President Rouhani told reporters on Thursday evening in a southern Iranian port, during a visit to Jamaran destroyer, a military vessel manufactured domestically in the country.
The president also praised the country's naval forces for attaining self-sufficiency in producing various types of military equipment, and assured that Iran's military capabilities are meant to "uphold peace" and guarantee deterrent power against aliens.
"Our armed forces are reliable guards for the Iranian nation, and with their current capabilities, they have the deterrent power against the ill-wishers," Rouhani pointed out.
He once again made it clear that Iran sends the "message of friendship and peace" to the whole neighboring countries, including its southern neighbors on the rims of the Persian Gulf and the Sea of Oman, noting that the country's naval forces can very well deliver such message to the other states.
"The Islamic Republic of Iran's power is for safeguarding the waters of the Persian Gulf and the Sea of Oman, and for the freedom of shipping (activities) and movement of the entire vessels carrying energy for the world," the president underlined.
In relevant comments on January 20, the Islamic Revolution Guards Corps (IRGC) Navy Commander Rear Admiral Ali Fadavi affirmed that his forces have attained high deterrent capabilities in defense sectors, noting that such power owes more to strengthened missile capabilities.
Fadavi announced that the IRGC naval forces play a major role in creating deterrent power in the country.
He said the IRGC Navy's high capability in the sphere of coast-to-sea missiles was "one of the major components of deterrent power in defense and security fields."