Leader Urges National Efforts to Conserve Environment
TEHRAN (Tasnim) - Supreme Leader of the Islamic Revolution Ayatollah Seyed Ali Khamenei called for all-out endeavors to protect the environment in Iran, and urged a halt to the environmental damage caused by the new constructions.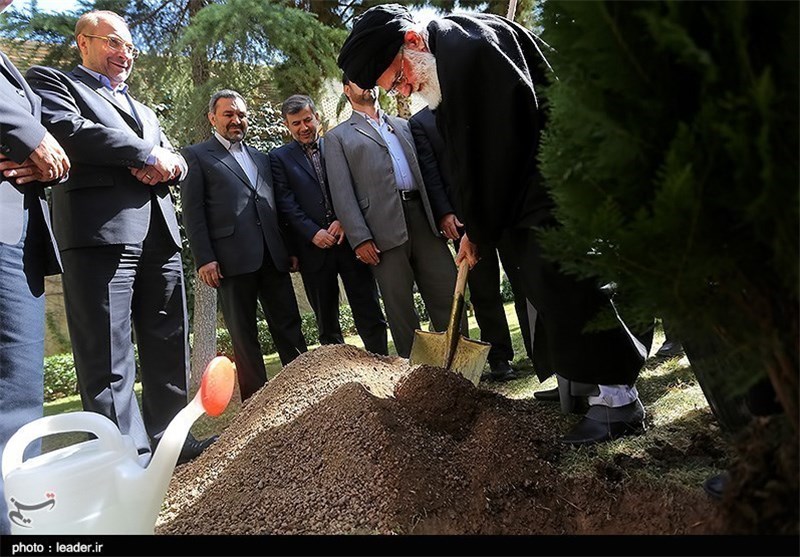 In a Wednesday ceremony on the occasion of the national Week of Natural Resources here in Tehran, the Supreme Leader planted a sapling as a symbolic gesture of respect for the Mother Nature, and called for collective efforts to safeguard the environment.
Ayatollah Khamenei then acknowledged the work of all the personnel engaged in the development of the country's green space, and said, "I ask the officials and the whole people to care about the issue of the green space, and not to let the country and the people's lives to be deprived of such perfect gift from God."
The Leader also cautioned against the damaging effects of dust particles and sand haze that enter the country from outside, and urged the whole administrative bodies to join hands and work together to coordinate policy on tackling that problem.
Earlier in February, Head of Iran's Environmental Protection Organization (IEPO) Masoumeh Ebtekar paid a visit to Iraq to hold talks with the Arab country's officials on a range of environmental issues, particularly Tehran-Baghdad joint efforts to tackle the growing menace of dust particles at the areas along the shared border.
The main aim of her trip was to strengthen environmental cooperation between the two neighboring countries to handle the problem of sand haze.
Iranian residents in the western and southwestern provinces, bordering Iraq, are facing with a growing trend in the influx of fine particles, which are generated by drought-hit marshlands in neighboring countries.
The disruptive dust storms have pushed pollution in those border areas to alarming levels, and have also raised health concerns.
The particles, carried by winds, can penetrate the lungs and enter the bloodstream, causing serious diseases such as lung cancer, asthma and heart problems.