President: Enormous Potential for Stronger Tehran-Baku Ties
TEHRAN (Tasnim) - Iranian President Hassan Rouhani hailed the amicable relations between Iran and neighboring Azerbaijan, noting that there is great potential for the expansion of bilateral ties.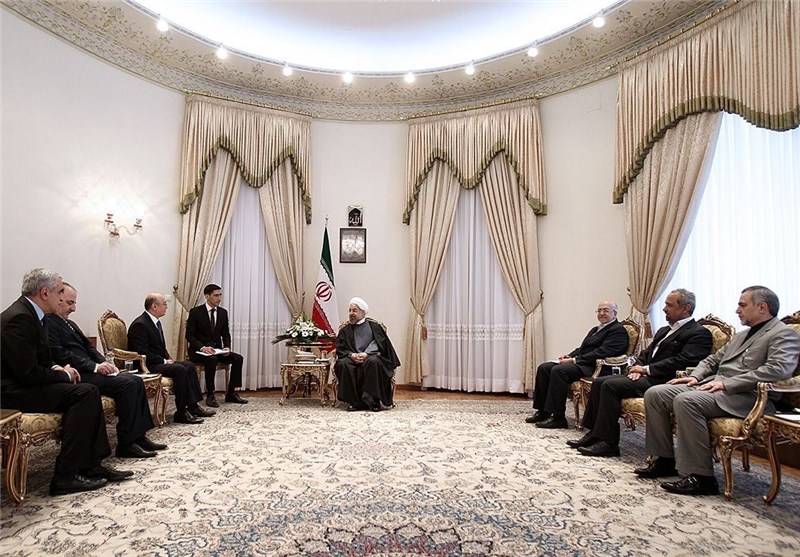 "Iran and Azerbaijan enjoy good bilateral relations, but there exist considerable potential for the expansion of relations and enhancement of cooperation between the two countries," Rouhani said in a meeting with the Azeri president's special envoy, Kamaladdin Heydarov, here in Tehran on Saturday.
The president reiterated that the Islamic Republic has great determination to bolster its ties with the neighboring countries, including the Republic of Azerbaijan.
Heydarov, for his part, delivered the Azeri President Ilham Aliyev's message to the Iranian chief executive, noting that Aliyev plans to pay a forthcoming visit to Iran.
Pointing to the suitable grounds for the strengthening of ties between Tehran and Baku, the Azeri envoy expressed his country's resolve to make the most of the new atmosphere for the expansion of bilateral relations during President Rouhani's tenure.
Earlier in January, President Rouahni held a meeting with his Azeri counterpart on the sidelines of the 44th annual meeting of the World Economic Forum (WEF) in the Swiss city of Davos.
In that meeting, Rouhani pointed to the numerous commonalities between Tehran and Baku, something he said would make "the development and progress of the Azeri nation" highly significant for Iran.
He also expressed the Islamic Republic's preparedness to furnish its northwestern neighbor, Azerbaijan Republic, with a range of technical expertise in various fields, including the oil, gas and petrochemical industries.