Russia Vetoes US-Sponsored UN Resolution on Crimea
TEHRAN (Tasnim) - Russia vetoed a UN Security Council's resolution declaring the referendum on the future status of autonomous republic of Crimea invalid and urging all states not to recognize its results.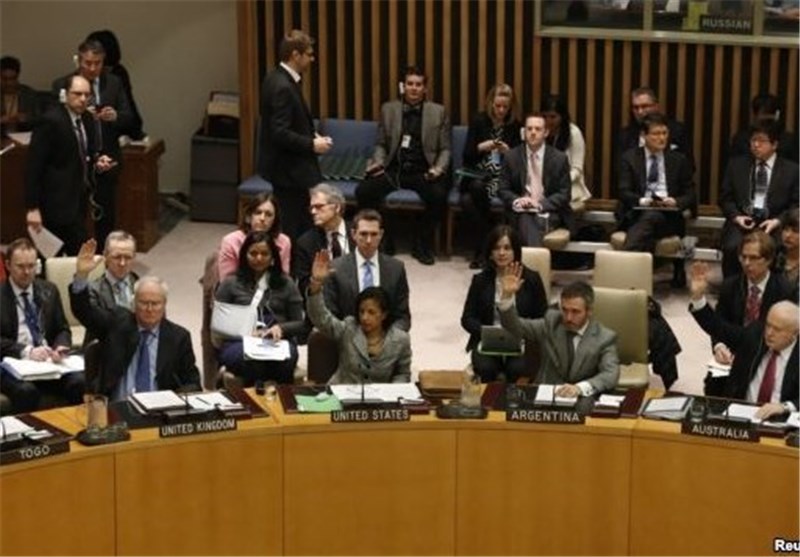 China abstained as 13 council members supported the resolution and Russia voted against.
The draft resolution noted that the Ukrainian government in Kiev has not authorized the referendum and said that it cannot be valid.
"This referendum can have no validity, and cannot form the basis for any alteration of the status of Crimea; and calls upon all States, international organizations and specialized agencies not to recognize any alteration of the status of Crimea on the basis of this referendum and to refrain from any action or dealing that might be interpreted as recognizing any such altered status," the documents reads.
Moscow has a veto right as one of five permanent members of the Security Council, RT reported.
It was "no secret that Russia would vote against the US draft resolution," Russia's envoy at the UN Vitaly Churkin said ahead of the voting. He added that Moscow would respect the choice of Crimeans.
"We cannot accept its basic assumption: to declare illegal the planned March 16 referendum where there residents of the Republic of Crimea should decide on their future," Churkin said, explaining Moscow's decision to veto the proposed document.
"The philosophy of the authors of the draft runs counter to one of the basic principles of the international law – the principle of equal rights and self-determination of peoples enshrined in the Article 1 of the UN Charter," the Russian diplomat said.
This principle was also confirmed by the 1970 UN Declaration on the Principles of International Law, and a number of other decisions by the UN General Assembly, and the Helsinki Final Act of 1975, Churkin said.
Russia does not dispute the principle of territorial integrity, which is "of, course, very important," the envoy said.
"In is also understandable that enjoyment of the right of self-determination through a separation from an existing state is an extraordinary measure, applied when future coexistence within a single state becomes impossible," Churkin said.
In the majority of cases it was implemented without the agreement of the state authorities.