President Rouhani Urges Reconstruction of Iran-EU Ties
TEHRAN (Tasnim) - Iranian President Hassan Rouhani on Sunday called for a revival of relations between Tehran and the European Union (EU), arguing that the standoff on Iran's peaceful nuclear program should not stifle those "historical" ties.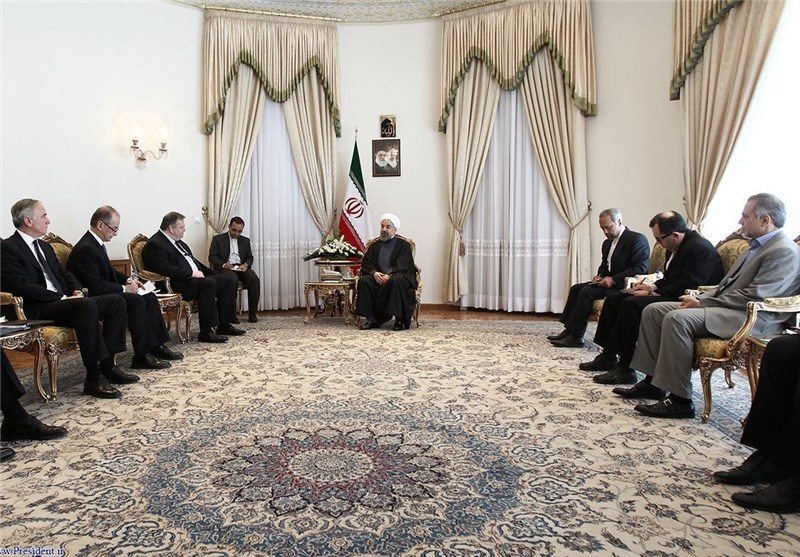 "The nuclear pretext should not become a means of separation between Iran and the EU, and I believe the traditional and historical ties between Iran and the EU, which will serve the both sides' mutual interests, should be reconstructed," President Rouhani said in a meeting with visiting Greek foreign minister, Evangelos Venizelos, here in Tehran on Sunday.
President Rouhani also pointed to Greece's rotating presidency of the Council of the European Union, noting that stronger ties between Iran and the EU would serve the interests of the region and the world as well.
Venizelos, for his part, said Greece tries to use its presidency of the European body to bolster bilateral relations between Iran and the EU.
In a similar development earlier this month, President Rouhani stressed in a meeting with European Union foreign policy chief that Iran and the EU can boost their relations in a whole host of fields on the basis of mutual respect, noting that contacts between the two sides should not be confined to negotiations over Tehran's peaceful nuclear program.
"I believe that along with the nuclear talks that are in progress and should be advanced, it would be appropriate to consider the other fields on which Iran and the European Union can develop their ties and cooperation," Rouhani told Catherine Ashton at the time.