Serbia's Center-Right Claims Victory in Polls
TEHRAN (Tasnim) - Serbia's ruling Progressive party declared victory in parliamentary elections, promising deep economic reform.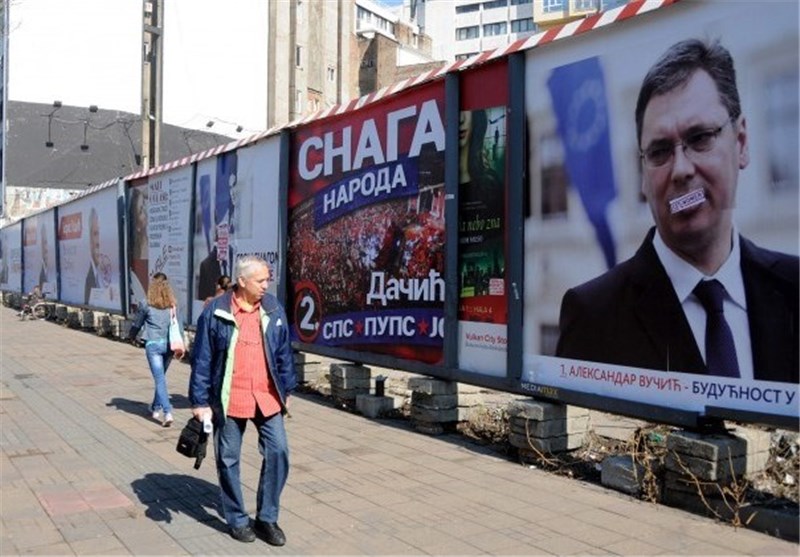 The margin of victory, rivalling the results of late Slobodan Milosevic during the war years of the 1990s, will see Progressive Party (SNS) leader Aleksandar Vucic become prime minister as Serbia embarks on talks to join the EU.
Pollster Cesid said the Progressives had won 48.8 percent of ballots cast on Sunday, which under Serbia's electoral system would translate into around 157 seats in the 250-seat parliament. The party itself said it had won 49.3 percent, Al Jazeera reported.
"No one has had such a day," Vucic told cheering supporters in Belgrade, according to a Reuters news agency report.. "My goal is not to be rich, my goal is for the people of Serbia to live better," he said.
The SNS forced the snap election after just 18 months in coalition government with the Socialist Party of outgoing Prime Minister Ivica Dacic, saying it needed a stronger mandate to overhaul Serbia's shaky finances.
According to Cesid, the Socialists came in second with 14 percent, securing about 50 seats.
The rest of the seats went to the pro-Western Democratic Party and the New Democratic Party of former President Boris Tadic, the two groups that split up before the vote.
It was one of the most convincing victories by a party since the multiparty system was introduced in Serbia in the 1990s.
In his victory speech, Vucic pledged to vigorously fight against corruption and crime, and revive the economy in the troubled Balkan nation of about 7 million people.