President Sees Great Opportunities for Expansion of Tehran-Dushanbe Ties
TEHRAN (Tasnim) - Iranian President Hassan Rouhani said there are suitable grounds for the enhancement of relations between Iran and Tajikistan in diverse fields.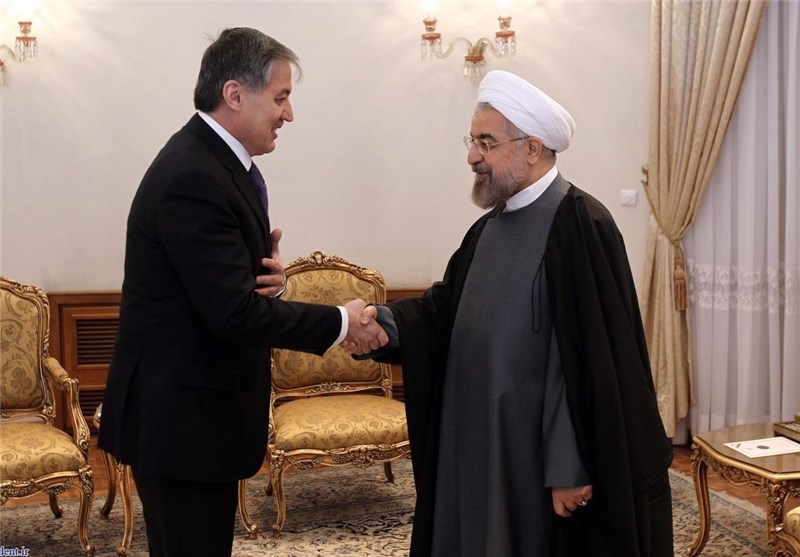 In a Monday meeting with visiting Tajik Foreign Minister Sirojidin Aslov in Tehran, President Rouhani expressed Tehran's eagerness to forge stronger cooperation with Dushanbe in light of the numerous cultural and religious commonalities between the two nations.
Iran and Tajikistan "enjoy great potential to boost the level of political, economic and cultural cooperation between the two countries," Rouhani noted.
The Iranian chief executive also underlined the considerable potential of the two countries to embark on a series of joint economic projects.
Aslov, for his part, voiced the Central Asian country's preparedness to boost all-out ties with the Islamic Republic, particularly the economic relations.
The Tajik foreign minister has also held separate meetings with his Iranian counterpart Mohammad Javad Zarif and Iran's Parliament Speaker Ali Larijani on Sunday.
At the meeting with Aslov yesterday, the Iranian top diplomat said the Islamic Republic is prepared to strengthen brotherly bonds with Tajikistan, adding that Tehran and Dushanbe can bolster relations without any limitation.
"There is no ceiling on the expansion of cooperation between the two countries," Zarif said of the bilateral ties between Iran and Tajikistan.