President: Iran to Pursue Final N. Deal Logically
TEHRAN (Tasnim) - Tehran seeks to reach an ultimate accord with the world powers on its peaceful nuclear program, Iranian President Hassan Rouhani said, and reiterated Tehran's determination to protect the nation's inalienable rights.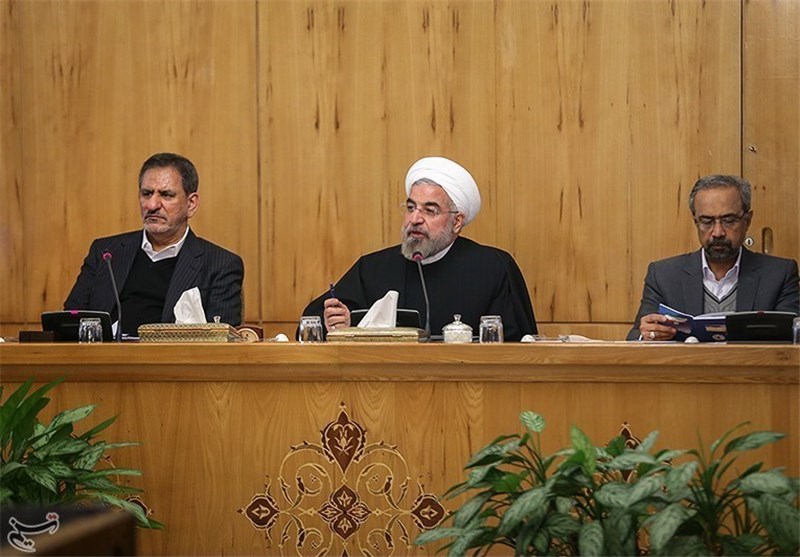 Addressing the last weekly session of the cabinet in the current Iranian year on Wednesday, President Rouhani expressed the hope that the West's decade-long standoff on Iran's peaceful nuclear program would come to an end soon.
He underlined that the country will continue holding negotiations with the world powers in a bid to clinch an ultimate, comprehensive nuclear deal, but made it clear that the Islamic Republic always takes "logic, reasoning, the nation's legitimate rights and the whole redlines" into account to move ahead with the talks.
President Rouhani also contended that a final deal will serve the interest of the whole sides, saying, "If we reach the final agreement, it will be beneficial to all, to the region, the West, the East and Iran."
He made the remarks as representatives from Iran and the Group 5+1 (the five permanent UN Security Council members plus Germany) have wrapped up another round of nuclear talks in Vienna on Wednesday.
The negotiations were part of broad efforts to resolve the stand-off on Iran's peaceful nuclear activities.