Syrian Army Ambushes, Kills Scores of Terrorists in Adra
TEHRAN (Tasnim) - The Syrian army carried out successful operations against the armed terrorist groups in different areas, killing scores of terrorists and destroying their weapons.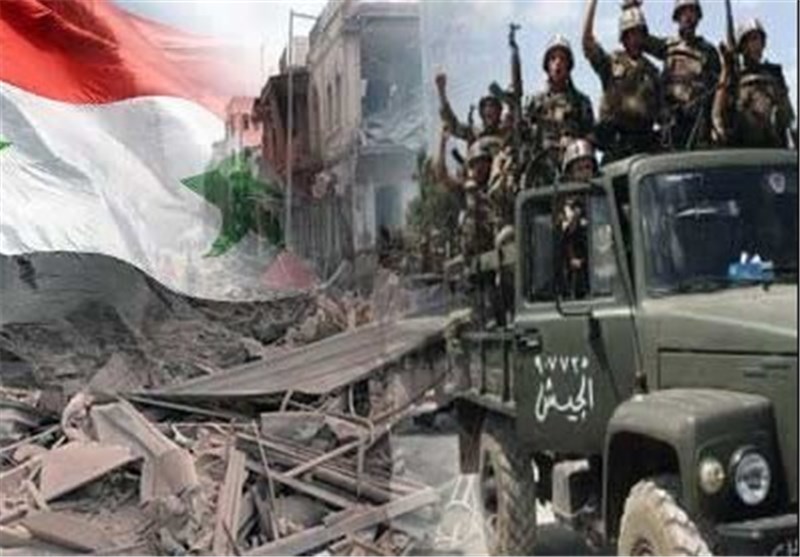 A military source told SANA that an army unit ambushed members of Jabhat al-Nusra terrorist group who infiltrated across the Jordanian borders in al-Ma'amel area ( factories) in Adra city in the eastern al-Ghota.
The source added that the army unit also seized the terrorists' weapons and ammunition.
A field commander told SANA reporter that, based on accurate information and in cooperation with the inhabitants in the region, the movement of a terrorist group from Jordan to Adra industrial area, toward the Eastern al-Ghouta was monitored, most members of the group were eliminated and the others were arrested.
Weapons, ammunition and a quantity of drugs in their possession were confiscated.
The field commander added that tightening the grip by the army on the terrorist groups in al-Ghouta and monitoring the infiltration attempts by other groups left hundreds of terrorists dead and wounded in a series of ambushes.
He affirmed that the army units are on a high alert to eliminate all terrorist groups for the complete eradication of terrorism from all towns and villages in the eastern al-Ghouta.
In the 26th of last February, the army units killed more than 175 terrorists and wounded others belonging to Jabhat al-Nusra and so-called al-Islam Brigade.
Saudis, Chechens and Qataris terrorists were among the killed and wounded where their movement between the Jordanian border and Adra industrial area in eastern al-Ghouta was monitored.
Army units targeted terrorists' gatherings in the villages of Tairma'leh and al-Ghanto in Homs countryside, killed 12 terrorists and destroyed their cars.
A source at the province told SANA that army units destroyed 2 cars equipped with heavy machineguns and another one loaded with weapons, ammunition and a mortar with all terrorists inside them in the villages of al-Manoukh and al-Shindakhiyeh to the east of Jeb al-Jarrah .
Another army unit killed a number of terrorists in Talbiseh, among them terrorist Ahmad Faisal Hammadi.
Army units destroyed terrorists' gatherings, rockets and ammunition warehouse and 4 cars equipped with heavy machineguns and loaded with weapons, ammunition, explosives and 4 mortar shells' launcher pads.
The army units also killed a number of terrorists, some from Saudi nationality, in the villages of al-Kabir, Bait al-Shorouk, al-Frunluq reserve, al-Shahrourah and Khan al-Jouz in the northern countryside of Lattakia.
A source in the province told SANA that Saudi terrorist Abu Islam al-Tamimi, the leader of the so-called Ansar al-Sham and Ihan al-Shuriki, leader of Jabhat al-Nusra, and Lebanese terrorist Marwan al- Majzoub and Abu al-Walid al-Ansari, Abu Abdullah al-Turki, Isam Zaidan, Abdullah al-Sufi and Mohammd Majbour, were identified among the dead.
The source pointed out that another army unit destroyed a car equipped with rockets launcher pad in the village of al-Zwaik, killing a number of terrorists, among them Asaad Shaker, Said Khalouf, Munir al-Shughari, Bahaa Shawish and Mahmoud Androun.