Pakistan's Musharraf Indicted for Treason
TEHRAN (Tasnim) - Pervez Musharraf, the former Pakistani president and army chief, has been indicted by a special court on treason charges, and will face the death penalty if found guilty.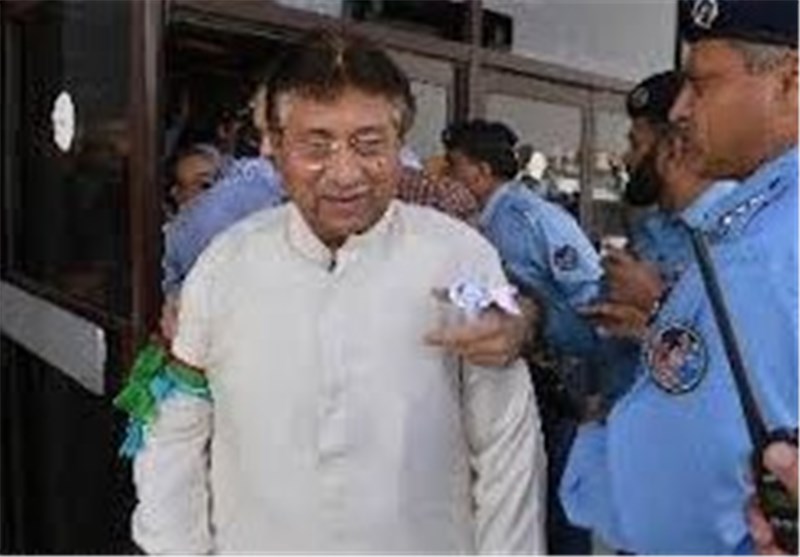 In the court room in Islamabad on Monday, Musharraf was read the indictment by the three-member bench, led by Justice Faisal Arab. The special court has been hearing arguments pertaining to the dismissal of judges and suspension of the constitution by Musharraf on November 3, 2007.
Musharraf appeared in court in person for the second time since being hospitalised on January 2 while en route to an earlier hearing. He has since been receiving treatment for a heart condition at the Armed Forces Institute of Cardiology (AFIC) in Rawalpindi, the Pakistani capital's twin city.
"The indictment has set the precedent that a military adventurer will be held responsible for flouting the law," said Nadir Hassan, a Karachi-based journalist and columnist.
"The 'doctrine of necessity', through which the judiciary has given legal cover to coups is now dead. Hopefully, this deters future generals from assuming they can do what they want while the politicians and judges cower before them and give them cover for their actions," Hassan told Al Jazeera.
Former President Musharraf has denied all charges, alleging that the case is politically motivated. His lawyers on Monday asked the court to authorise Musharraf's travel to the United Arab Emirates to visit his ailing mother. They also reiterated an earlier request to authorise Musharraf to travel to the United States for further medical treatment.
Security was tight all along the route from the AFIC to the court, with hundreds of security personnel deployed to secure the route and the court premises. Musharraf has faced multiple death threats since returning to the country in March 2013, and was earlier being held under house arrest at his farmhouse, because his security could not be guaranteed in jail.
The indictment on treason charges is historic for Pakistan, marking the first time that a military ruler of the country has been investigated or indicted on such charges. The special court has held several hearings since being constituted in November 2013, and its investigations have now culminated in Monday's indictment.
Following the hearing, Musharraf was rushed back to the hospital in Rawalpindi, accompanied by a security convoy of dozens of vehicles and government-provided security personnel.
The court is due to reconvene, in Musharraf's absence, at 2:00pm local time (0900 GMT) on Monday, to issue orders regarding his requests to travel.