Leader Urges N. Negotiators to Spurn Language of Force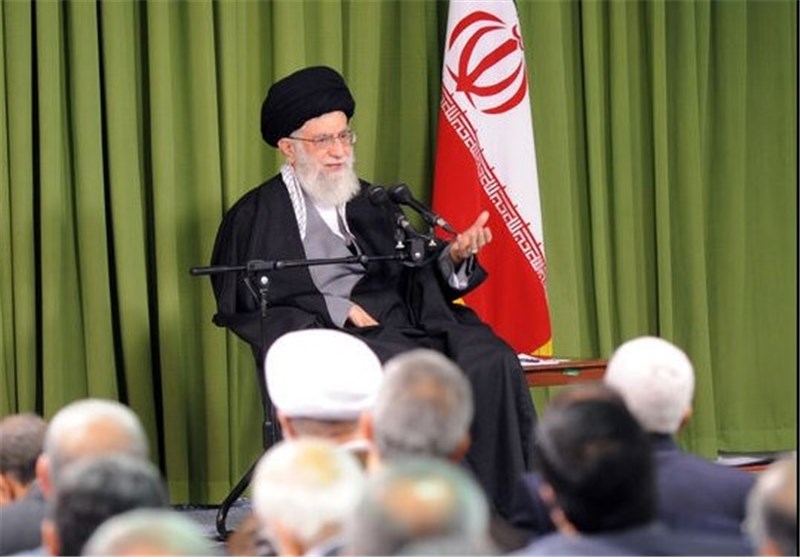 TEHRAN (Tasnim) – Supreme Leader of the Islamic Revolution Ayatollah Seyed Ali Khamenei called on the country's negotiators engaged in the nuclear talks with the world powers to not submit to any bullying language.
"Our country's (nuclear) negotiators should not approve of any sort of language of force by the other side," Ayatollah Khamenei said in a gathering of the Atomic Energy Organization of Iran (AEOI) staff, here in Tehran on Wednesday.
The meeting was held to observe the National Nuclear Technology Day, which falls on Farvardin 20.
The Leader also emphasized that the International Atomic Energy Agency's (IAEA's) relations with Iran should be "conventional and non-extraordinary".
The Supreme Leader further pointed to the pretexts under which the arrogant powers have mounted an international propaganda campaign against the Islamic Republic, and noted, "The nuclear case is an example of the issues that they (the arrogance front) tried to use as a pretext for creating a bad atmosphere against the Islamic establishment and for falsification."
Ayatollah Khamenei made it clear that the enemies are after retaining an anti-Iran atmosphere in the world by resorting to nuclear pretexts, saying the Islamic Republic entered the nuclear negotiations to thwart those plots.
The Leader explained that the Iranian administration's new plan for the negotiations over the nuclear issue has been accepted to turn the tide and let the world public opinion know the truth.
Ayatollah Khamenei went on to say that Iran will never allow its "scientific nuclear move" to be brought to a halt, and stressed, "None of the country's nuclear achievements could be shut down, and nobody has the right to bargain over them, and nobody will do that."
The Supreme Leader then underlined that Iran will never slow down or stop its nuclear research and development, stressing that those scientific activities will remain firmly in place as the nuclear negotiations between Tehran and the world powers are in progress.
Delegations representing Iran and Group 5+1 (Russia, China, the US, Britain, France and Germany) concluded their latest round of talks over Tehran's peaceful nuclear program in the Austrian capital of Vienna on Wednesday.
The two sides are slated to meet again in Vienna on May 13, with the aim of putting an end to the decade-long standoff on the Islamic Republic's peaceful nuclear program.