South Korea Ferry Tragedy Death Toll Rises
TEHRAN (Tasnim) - The death toll from a capsized South Korean passenger ferry rose to 25 as parents of missing schoolchildren blamed the ship's captain for the tragedy after he and shipping company officials made emotional apologies for the loss of life.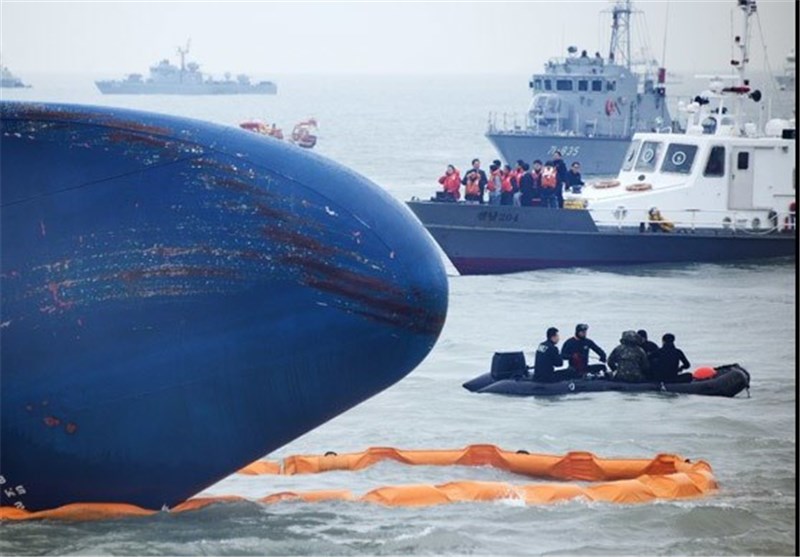 South Korean prosecutors on Friday said that the third officer was in charge of the bridge when the ferry capsized in calm seas on Wednesday.
"The captain was not in command when the accident took place," state prosecutor Park Jae-Eok told a press briefing on preliminary findings of the investigation into the disaster.
Of 475 passengers and crew on the Sewol ferry 179 people were listed as safe and 271 were still missing on Friday.
South Korean authorities were due to restart rescue efforts on Friday morning and to deploy an unmanned submarine to inspect the vessel, Reuters reported.
Divers, hampered by strong tides and murky waters, have been unable to gain access inside the ferry.
Theories about the cause of the accident swirled and an official investigation was due to resume with questioning of the captain.
The vessel started to sink on Wednesday on a routine trip out of the major port of Incheon to the holiday island of Jeju, 480km to the south.
Coastguard officials have said the investigation was focused on possible crew negligence, problems with cargo stowage and structural defects of the vessel, although the ship appears to have passed all of its safety and insurance checks.
The captain, Lee Joon-seok, faces criminal investigation, which is standard procedure in South Korea.
Relatives of those who died have accused him and some of his crew of being among the first to leave the vessel.
Both 69-year-old Lee and the company that owns the ship have apologised for the loss of life, although neither has admitted responsibility.