Cleric Reaffirms Iran's Resolve to Uphold N. Achievements
TEHRAN (Tasnim) – The Iranian scientists succeeded to indigenize the peaceful nuclear technology without foreign help, a senior cleric underlined, adding that the country will by no means retreat from nuclear achievements it has achieved.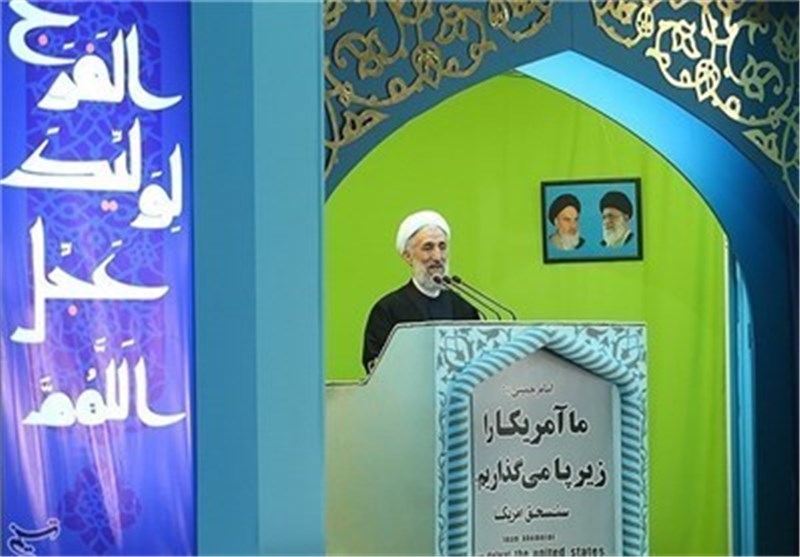 "As regards nuclear issue, the East and the West did not assist our scientists," Tehran's provisional Friday prayers leader Ayatollah Kazem Seddiqi said on Friday, noting that the local experts managed to indigenize the nuclear technology by self-reliance, diligence and constant efforts.
Addressing a large congregation of people here in Tehran, the cleric added that Iran's success to employ the nuclear technology for diverse peaceful purposes has strengthened the Iranians' resolve and provided sense of self-esteem in the country.
He further echoed remarks by Supreme Leader of the Islamic Revolution Ayatollah Seyed Ali Khamenei, stressing that Iran will never retreat from its nuclear achievements, nor will a single nuclear facility in the country shut down.
In relevant comments on April 9, Ayatollah Khamenei underlined that Iran will never allow its "scientific nuclear move" to be brought to a halt, and stressed, "None of the country's nuclear achievements could be shut down, and nobody has the right to bargain over them, and nobody will do that."
The Supreme Leader then stressed that Iran will never slow down or stop its nuclear research and development, making clear that those scientific activities will remain firmly in place as the nuclear negotiations between Tehran and the world powers are in progress.
Delegations representing Iran and Group 5+1 (Russia, China, the US, Britain, France and Germany) concluded their latest round of talks over Tehran's peaceful nuclear program in the Austrian capital of Vienna on April 9.
The two sides are slated to meet again in Vienna on May 13, with the aim of putting an end to the decade-long standoff on the Islamic Republic's peaceful nuclear program.