Iran Calls for Private Investment in Nicaragua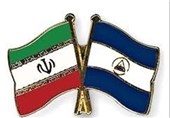 TEHRAN (Tasnim) - Iranian President Hassan Rouhani called on Nicaragua to pave the ground for the active presence of Iran's private sector and investors in the Latin American country.
"Sufficient information about proper grounds in Nicaragua for the presence of private sector and Iranian investors must be provided for them," Rouhani said in a meeting with Nicaraguan Foreign Minister Samuel Santos Lopez in Tehran on Monday.
He also touched upon deep-rooted cultural ties between the two countries, emphasizing the need to promote Tehran-Managua relations.
The principled policies of Iran and Nicaragua are based on independence and resistance against interventionist powers, the Iranian president said, adding that the two countries are located in two sensitive regions of the world and have always sided with each other in the international organizations.
Lopez, for his part, called for promotion of relations between Tehran and Managua. He also pointed to the suitable grounds for foreign investment in his country and expressed Nicaragua's willingness to host Iranian companies and investors.
Lopez, heading a high-ranking political delegation, arrived in Tehran on Monday.
Iran has sought to increase ties with Latin American countries over the past few years. The promotion of all-out cooperation with Latin American countries is now among the top priorities of the Islamic Republic's foreign policy.
According to statistics released by the International Monetary Fund, Iran's trade with Latin America has witnessed a considerable rise since 2008.
In January 2012, the former Iranian president visited Nicaragua to attend the inauguration of Nicaraguan President Daniel Ortega for his third term.