Syrian Army Advances in Aleppo, Kills More Terrorists in Several Areas
TEHRAN (Tasnim) - The Syrian Army continued their national duty in pursuing armed terrorist groups in different areas, having successful operations in Aleppo and Damascus countryside.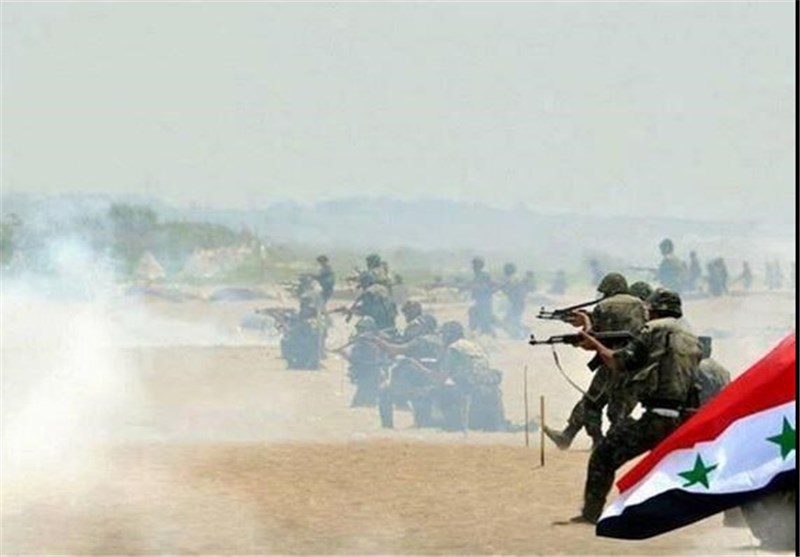 A military source told SANA that army units advanced in al-Ramouseh and al-Ameriya neighborhoods in Aleppo and regained control over the fertilizer factory and the containers depot.
The army units eliminated a huge number of terrorists in the operation, the source added.
It affirmed the army units confronted armed terrorist groups tried to infiltrate into al-Ramouseh groves and Bustan al-Bach neighborhood from MTN area in Aleppo, killing and injuring their members and destroying their tools.
Other Army units repelled terrorist groups who were attempting to infiltrate into al-Ramouseh farms and Bustan al-Bashar neighborhood, destroying their vehicles.
Meanwhile, a military source told SANA the Army destroyed a convoy of terrorist's cars on Castillo-al-Jandoul circle in Aleppo, killing many terrorists.
Meanwhile, A unit of the army destroyed a bulldozer bomb which was trying to infiltrate to safe areas in al-Ameriya in Aleppo, killing six terrorists among them the suicide bulldozer driver.
A military source told SANA Thursday that an army unit eliminated all members of an armed terrorist group tried to attack Ark gas pipeline in Palmyra countryside .
Units of the Army also eliminated a number of terrorists while storming their gatherings in Homs and countryside.
A military source told SANA that a unit of Army killed many terrorists and wounded others near Abdullah bin Masoud mosque and al-Natour bakery in Bab Houd in Homs.
The source added that another army unit eliminated members of a terrorist group near the Water treasurer in al-Samalel village in al-Houla.
Units of the armed forces killed numbers of terrorists and injured others in the villages and towns of Nawa, Tal al-Jumou', Jellin, al-Mzeireeb, Dael, Atman and al-Rusoum in al-Lajat area and in Kherbet Mama in the countryside of Daraa.
Other army units destroyed several terrorists' vehicles in the village of Um al-Awsaj and a den for leaders of terrorist groups in al-Mseifra.
In Idleb, army units targeted and killed many terrorists in the villages and towns of al-Bsheiriyeh, Kherbet al-Jouz in Jisr al-Shughour area and in Huloul, Jabal al-Arbaeen, Kfarnubul, Kfarroumeh, Binnesh and M'artamsarin and al-Hamidiyeh in the countryside.