Thai Government Warns Protesters as Power Struggle Deepens
TEHRAN (Tasnim) - Thailand's government on Sunday warned people to stay away from anti-government protests, saying it had to step up security as the two sides in a lengthy political crisis squared off over who is running the country.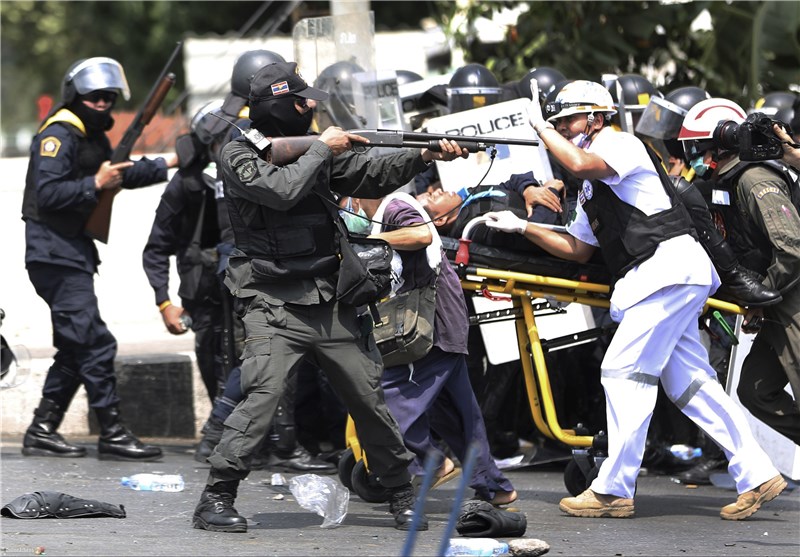 The caretaker government loyal to ousted prime minister Yingluck Shinawatra is clinging to power and to the hope of an election in July to restore its authority.
But the government's enemies deride its legitimacy and are calling on the upper house of parliament, the courts and the Election Commission to appoint a new prime minister, Reuters reported.
The head of the government team overseeing security during months of demonstrations against Yingluck and her brother, ousted former premier Thaksin Shinawatra, said protest leader Suthep Thaugsuban's call for a new prime minister was illegal.
"We would like to warn all Thais to stay away from the protest sites as we have to tighten our security forces in a bid to avert a crisis," Tharit Pengdit, chief of the Department of Special Investigation, told reporters.
Protesters have used guns and grenades to resist police efforts to clear them off the streets and the government has generally sought to avoid confrontation.
But Tharit's warning could be a sign that the government is feeling increasingly embattled, especially after Yingluck's sacking by the Constitutional Court for nepotism on Wednesday, and is trying to assert its authority.
The sometimes violent protests against Yingluck and Thaksin have sapped investor confidence, frightened off tourists and dented growth in Southeast Asia's second-biggest economy.
A day after Yingluck and nine of her cabinet members were thrown out of office she was indicted by an anti-corruption agency for negligence over a rice subsidy scheme that ran up big losses. The Senate is expected to impeach her for that, which could result in a ban from politics.