Iran, Pakistan Discuss Ways to Develop Bilateral Ties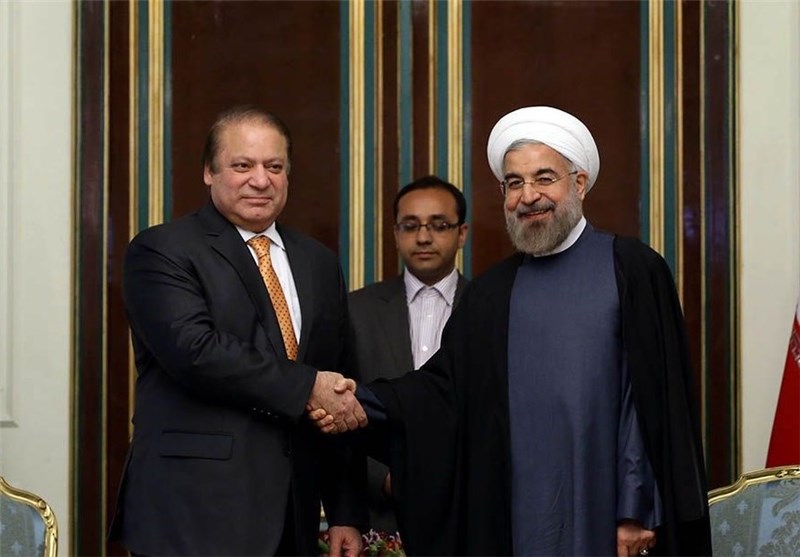 TEHRAN (Tasnim) – Iranian President and Pakistani premier in a meeting on Sunday reviewed the current status of Tehran-Islamabad bilateral relations and explored avenues for bolstering mutual ties, with both highlighting the importance of stronger cooperation along the joint borders.
Iranian President Hassan Rouhani held a meeting with Pakistan's Prime Minister Nawaz Sharif here in Tehran on Sunday to discuss a range of issues pertaining to the neighboring nations' bilateral relations.
The visiting Pakistani arrived in Iran earlier in the day for a two-day official visit.
During the meeting, President Rouhani called for the promotion of cultural and economic cooperation between the two Muslim countries, particularly across the border areas.
Pointing to the historical, cultural and geographical commonalities between Iran and Pakistan, Rouhani contended that the two countries' identical interpretation of Islam could help the governments better take advantage of their potential and raise the level of mutual cooperation.
The Iranian president also touched upon Iran-Pakistan (IP) gas pipeline (also known as the Peace Pipeline) and noted that Tehran has honored its commitments to completion of the multi-billion-dollar pipeline on its soil.
He said Iran expects the Pakistani side to meet its commitments as well, so that the bilateral relations would be upgraded to a higher level.
Sharif, for his part, voiced his administration's determination to remove obstacles to finalization of the pipeline project.
He also expressed Islamabad's preparedness to develop stronger cooperation with Tehran in a bid to wipe out the terrorist groups along the shared borders, particularly the Jaish-ul-Adl terrorist group.
On February 6, the Pakistani-based terrorist group kidnapped five Iranian border guards in Jakigour region in Iran's southeastern province of Sistan and Baluchestan and took them to Pakistan.
Four of the five border guards were released and returned home on April 6, after being held hostage for two months. However, the fifth one, Jamshid Danaeifar, still remains unaccounted for.