Leader Rejects West's Call for Restricting Iran's Missile Program
TEHRAN (Tasnim) – Supreme Leader of the Islamic Revolution Ayatollah Seyed Ali Khamenei rejected the West's call for restricting Iran's missile program, and said the demand is foolish while the West is threatening Iran militarily.
"They (westerners) expect restriction on Iran's missile program while they are constantly raising military threats against Iran, therefore, their expectation is foolish and idiotic," Ayatollah Khamenei told a group of Iranian military personnel after a visit to an exhibition on achievements of the Aerospace Force of the Islamic Revolution Guards Corps (IRGC) here in Tehran on Sunday morning.
During the exhibition different types of Unmanned Aerial Vehicles (UAVs), including Iranian version of the US stealth RQ-170 drone, different anti-ship and ballistic missiles, air-defense systems, radars and command and control centers were put on display.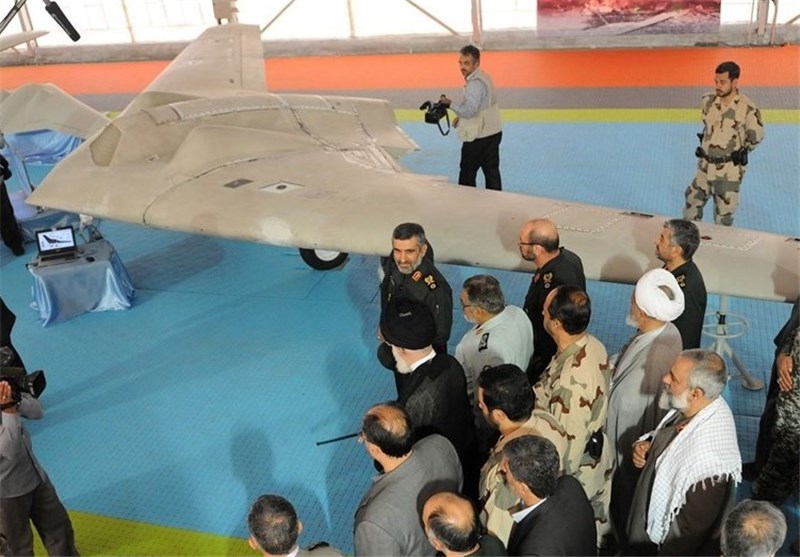 The Leader also lashed out at the West for its "irrational and unwise" behavior during the nuclear negotiations with Iran, and stated that the behavior signifies the westerners' ultimate failure in their confrontation with the Iranian nation.
Ayatollah Khamenei further said the arrogant powers are seeking to force Iranian nation to retreat from its rights, but at the same time underlined that enemies "will definitely fail to reach the goal".
Elsewhere, the Leader opposed connecting the country's needs and the issue of anti-Iran sanctions to the nuclear talks, and asked Iranian officials to find another solution to the issue of sanctions.
The remarks by the Leader came a few days before the start of new round of nuclear talks between Iran and the six world powers.
The two sides are slated to convene in Vienna on May 13 to start drafting the text of an ultimate agreement to end the decade-long standoff on Iran's nuclear case.
The parties have on November 24, 2013, clinched an interim six-month deal in the Swiss city of Geneva.
The breakthrough deal (the Joint Plan of Action), which has come into effect since January 20, stipulates that over the course of six months, Iran and the six countries will draw up a comprehensive nuclear deal which will lead to a lifting of the whole sanctions on Iran.