President: Iran Keen to Expand Ties with China
TEHRAN (Tasnim) - Iranian President Hassan Rouhani called for further improvement of Tehran-Beijing relations in different fields.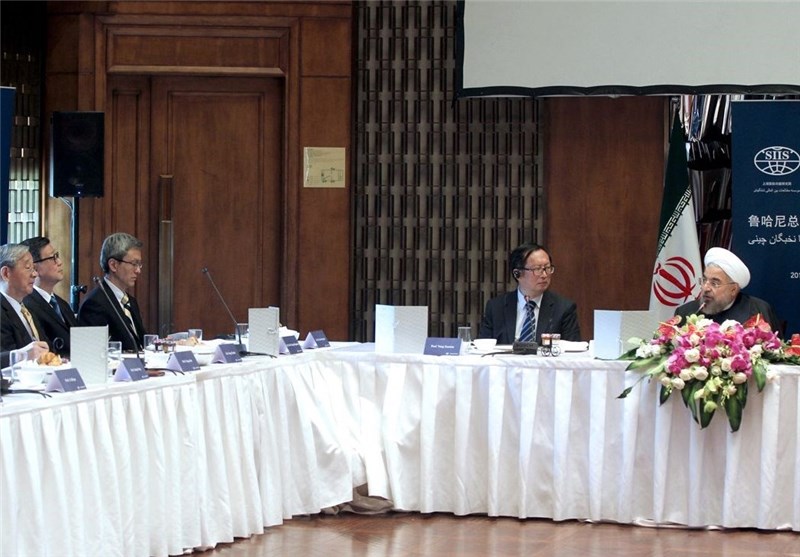 Addressing a group of Chinese scholars and elites in Shanghai on Thursday, the Iranian president urged the enhancement of all-out relations between the two nations.
He also made a reference to Iran-China historic relations, stressing that the Silk Road should be revived to make the regional nations closer to each other.
Emphasizing the need for stronger academic and scientific relations between Iran and China, Rouhani called on the research centers in both countries to develop strategies for setting long-term relationship based on the mutual interests.
The president then expressed Tehran's willingness for forging stronger cooperation with Beijing in diverse areas, such as defense, aerospace and new technologies.
Elsewhere in his speech, the Iranian chief executive once again warned against the peril of violence and extremism and the world, noting that counter-terrorism is not the task of a single nation or a single continent, but all the human beings should join hands to deal with those threats.
In December last year, the United Nations General Assembly approved a proposal presented by President Rouhani, which asks the UN member states to unite against extremism, violence and sectarian conflicts in all their forms.
The proposal, dubbed a World Against Violence and Extremism (WAVE), which received overwhelming approval in the global body, also necessitates "appropriate measures to strengthen universal peace and to achieve international cooperation in solving international problems of an economic, social, cultural, or humanitarian character."