Thai Military Ruler 'Wins Royal Backing'
TEHRAN (Tasnim) - General Prayuth Chan-ocha, leader of Thailand's coup, said he has received the endorsement of King Bhumibol Adulyadej formalizing his status as head of government, after the armed forces seized power last week.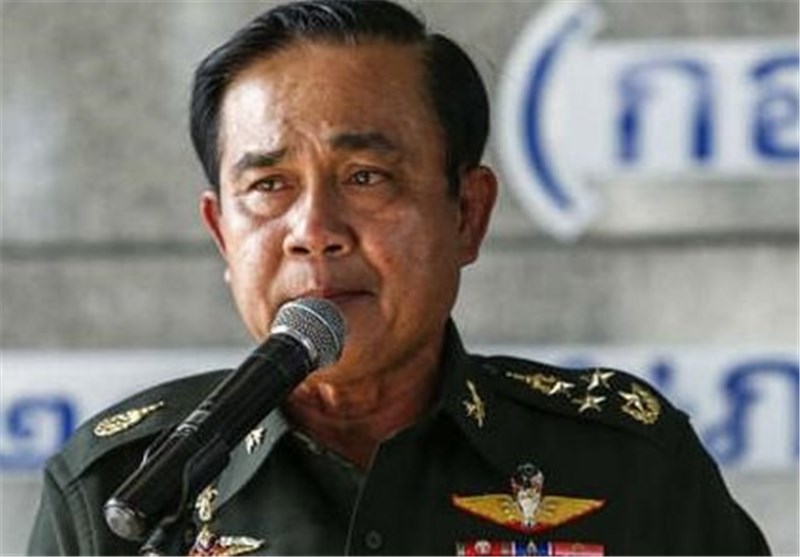 The army chief gave his first address to the nation on Monday, saying that he will enforce law firmly in order to improve the political situation in the country.
"The most important thing right now is to keep peace and order in the country," Prayuth said. "When the conflict intensified, and there was the threat of violence, we had to act."
The ceremony came one day after the military junta repeated warnings that it will crack down on civilian opposition to its takeover of power.
The military seized power last Thursday to end six months of sometimes violent protests against the government of Prime Minister Yingluck Shinawatra.
It took over the government with a heavy hand: detaining scores of people, most allied with Yingluck's government, throwing out the constitution, dissolving the Senate and censoring media.
Yingluck herself was detained by the military on Friday, but it has relaxed restrictions, allowing her to go home although she is under military supervision, Reuters reported.
Suthep Thaugsuban, who had led seven months of protests and had been detained by the junta since the coup was announced, left a military detention centre on Monday and later appeared at the attorney-general's office escorted by police and soldiers.
He faces insurrection charges for seizing government ministries and other infractions during his protest bid.