Iran Not to Forsake Legitimate Nuclear Rights: FM
TEHRAN (Tasnim) – Iran's Foreign Minister Mohammad Javad Zarif underlined the country's right to use peaceful nuclear technology.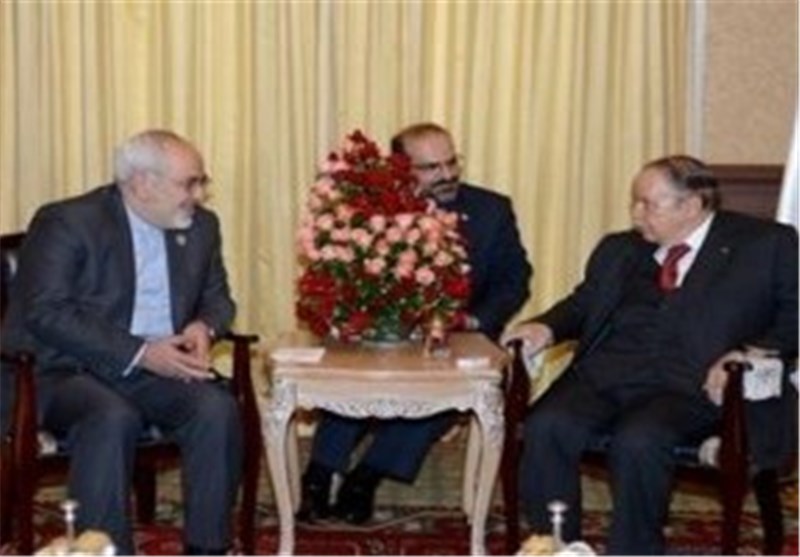 Speaking in a meeting with Algerian President Abdelaziz Bouteflika on Thursday, Zarif pointed to Tehran's nuclear talks with the world powers and said that Iran has never pursued nuclear weapons and that the country will not abandon its legitimate rights to benefit from peaceful nuclear technology.
Iran and the Group 5+1 (the five permanent UN Security Council members plus Germany) concluded the latest round of negotiations on Tehran's peaceful nuclear program in the Austrian capital of Vienna on May 16.
They are slated to convene the next meeting from June 16 to 20, again in Vienna, in order to draft a comprehensive nuclear deal to resolve the decade-long standoff on Iran's nuclear energy program.
Zarif, who is in capital Algiers to attend the 17th Ministerial Conference of the Non-Aligned Movement (NAM), also elaborated on Iran's principled position on the crisis in Syria and Tehran's efforts to resolve the crisis, stressing that the international community ought to take steps for finding an end to the war and bloodshed in Syria.
Elsewhere in his remarks, Zarif pointed to the growing ties between Tehran and Algiers and said Iran sees no limits for the expansion of relations with Algeria.
Bouteflika in this meeting hailed the trend of nuclear talks between Iran and the sextet.
The Algerian president also appreciated Iran's successful management of the NAM as the movement's president and also thanked Tehran for supporting the people of Syria.
He hoped that the Syrian crisis will end soon and the region will move towards stability.
Bouteflika further underlined the development of cooperation between his country and Iran in different areas.