Egyptians Protest after Sisi Election Victory
TEHRAN (Tasnim) - Protests have been taking place in cities across Egypt, days after the country elected former army chief Abdel Fattah el-Sisi its president in a vote EU observers called "in line with the law".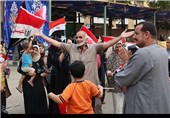 On Friday, demonstrators took to the streets in the capital Cairo, Bani Suef and Fayoum, holding banners with photos of the ousted president Mohamed Mursi and chanting against the president-elect.
A day earlier, an EU team that monitored the presidential election said the vote was conducted "in line with the law", although it regretted the lack of participation of some "stakeholders".
Preliminary results from the three-day election that ended on Wednesday gave 96 percent of votes to Sisi.
Sisi's opponents say Egypt has returned to autocratic rule since he deposed Mursi. More than 1,400 have been killed in street clashes and thousands imprisoned in a crackdown on the Muslim Brotherhood and its allies.
Despite Sisi's victory, the vote was seen as a blow to the military establishment, because of its low voter turnout, a fact noted by EU observers.
Robert Goebbels, a senior member of the EU mission, said "high turnout is not necessarily proof of democratic elections", noting that turnout in states like North Korea with only one candidate can reach 99 percent, Al Jazeera reported.
EU officials said the election was held in a "peaceful and calm manner" with "only minor procedural problems and a limited number of violations".
The lack of participation "undermined universal participation in the election," the EU said a statement.