Thai Anti-Coup Leader Captured by Army
TEHRAN (Tasnim) - Thailand's military leadership said a fugitive anti-coup leader has been captured and faces possible imprisonment.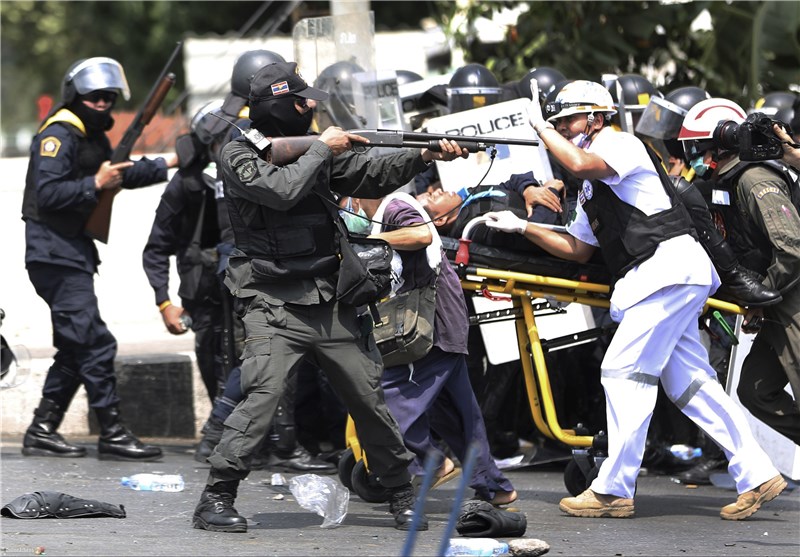 Sombat Boonngamanong, who spearheaded an online campaign to stage illegal flashmob rallies against the military takeover, was arrested late on Thursday in eastern Chonburi province, the army said.
Sombat had refused to turn himself in, instead posting a message on Facebook saying: "Catch me if you can".
He is the leader of a faction of the "Red Shirts" movement, which broadly supports former Prime Minister Thaksin Shinawatra and his sister Yingluck, who was deposed as prime minister last month.
Hundreds of people have been detained since the army seized power on May 22 and summoned politicians, activists, academics and journalists to report to the military.
Human rights groups have criticised the lack of public records of how many people are in detention and where.
Thai Lawyers for Human Rights estimates that 200 people are being held.
"We would like the government to have daily figures," the group's Pornpen Khongkachonkiet told Al Jazeera. "How many people have been detained, how many people have been released, on which day? Also, the procedures on how they release people. We wish to know that they are safe and back to the family."
Pravit Rojanaphruk, a journalist at The Nation newspaper, was recently released after being held for six days.
Just before the military ordered him to report, he was outspoken against the coup.
"One colonel told us we were there as a gesture of being warned. As he said, we were handed a yellow card, as in the football terminology," he told Al Jazeera.
He said that when he was released, he had to sign an agreement stating he would not participate in anti-coup protests.
The army has imposed martial law, media censorship and a night-time curfew as part of what it says is an attempt to end political bloodshed.