Iran's Junior Greco-Roman Wrestling Team Crowned Asian Champion
TEHRAN (Tasnim) - The Iranian Greco-Roman wrestlers won the title of the Asian Junior Championship in Ulaanbaatar, Mongolia, on Friday.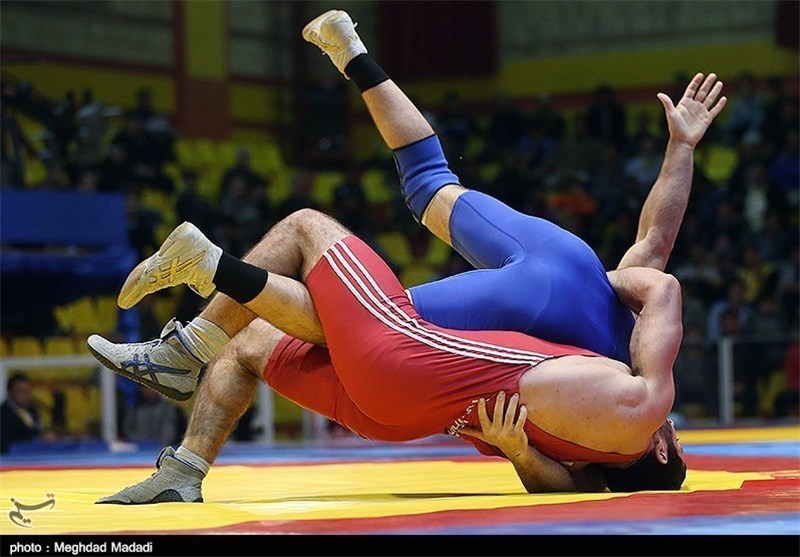 The championship took place at the Buyant-Ukhaa Sports Palace in Ulaanbaatar from June 5 to 8.
Iran seized five gold medals, one silver and two bronze medals and claimed the title with 75 points.
Kyrgyzstan finished in second place with 51 points and Kazakhstan came third with 50 points.
Results:
50kg:
Gold: Islomjon Bakhramov (UZB)
Silver: Anil Anil (IND)
Bronze: Reza Kheirollah Khedri (IRI) – Nam Kwon (PRK)
55kg:
Gold: Puntsag Erdenebileg (MGL)
Silver: Behrooz Maleki (IRI)
Bronze: Oskonbai Abdupattaev (KGZ) - Damir Zarlykhanov (KAZ)
60kg:
Gold: Ali Reizollah Arsalan (IRI)
Silver: Ravinder Ravinder (IND)
Bronze: Ainagulov Mirambek (KAZ) - Nanyan Zhang (CHN)
66kg:
Gold: Ramin Taheri (IRI)
Silver: Khusrav Obloberdiev (TJK)
Bronze: Amarsaikhan Norovsuren (MGL) – Nurzhanbek Abduganiev (KGZ)
74kg:
Gold: Payam Bouyeri Payani (IRI)
Silver: Esen Asanov (KGZ)
Bronze: Sarvar Isokov (TJK) - Tamerlan Shadukayev(KAZ)
84kg:
Gold: Ali Abdolreza Sharifi (IRI)
Silver: Sandeep Sandeep (IND)
Bronze: Sanzhar Bagashar (KAZ) - Aishan Aishan (CHN)
96kg:
Gold: Mohammad Esmaeil Ebrahimi (IRI)
Silver: Alimkhan Syzdykov (KAZ)
Bronze: Gyeong Kim (KOR) - Uzur Dzhuzupbekov(KGZ)
120kg:
Gold: Shak Lee Seung (KOR)
Silver: Bin Liu (CHN)
Bronze: Babak Ghasem Razmpoush (IRI) - Daler Rakhmatov (UZB)

Wrestlers from 14 Asian countries, namely Iran, South Korea, China, North Korea, Kazakhstan, Kyrgyzstan, Tajikistan, Turkmenistan, Taiwan, Thailand, Uzbekistan, Mongolia, India and Japan, participated in the tournament.
Asian Junior Freestyle Wrestling Championship will kick off in Ulaanbaatar on Saturday.