Travel Chaos as France Hit by Dual Rail, Taxi Strike
TEHRAN (Tasnim) - France was hit by a double whammy of transport woes Wednesday, as state rail company SNCF held a major strike on the same day that taxis caused massive disruption in protest over competition from web-based minicab services.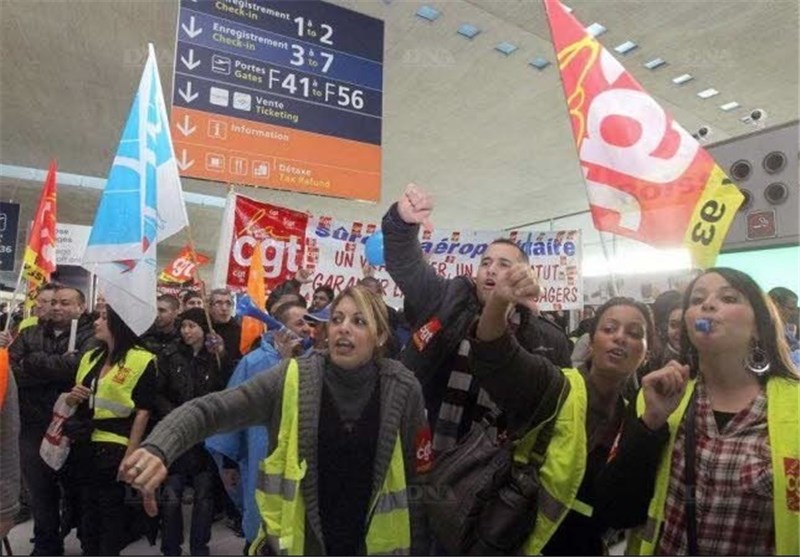 The rail strike started on Tuesday evening but its effects were not fully felt until commuters began heading to work Wednesday morning.
Only one high-speed intercity TGV out of two or three was running, while regional trains were also affected, particularly in the Paris area, AFP reported.
The Eurostar service connecting Paris and London was running as normal, and three out of four Brussels- and Amsterdam-bound Thalys trains were operational.
Trains to Germany were unaffected, but those going to Spain were disrupted.
The rail strike, described by passenger associations as "incomprehensible", takes place a week before France's National Assembly examines a proposed railway reform that aims to tackle the sector's soaring debt.
Transport Minister Frederic Cuvillier said on Tuesday the railway sector's debt currently stood at more than €40 billion, and would likely soar to €80 billion by 2025 if nothing was done about it.
At the heart of the proposed reforms are plans to open up France's rail services to competition and plans to unite state-run rail operator SNCF with RFF, the heavily indebted company responsible for the country's rail infrastructure.
"Striking will solve nothing and will only serve to punish passengers," said Jean Sivardière of the French FNAUT consumer association. "Reforms are necessary, everyone recognises that, but there are more constructive ways of negotiating with the authorities than making everyone's lives a misery."
Sivardière told FRANCE 24 that nothing in the planned reforms would affect SNCF workers' jobs or status, but that the strike was a protest at the "inevitability" of coming market competition against what is at present a complete state monopoly.