Fighting Apartheid Has Strengthened Iran-South Africa Ties: FM
TEHRAN (Tasnim) - Iranian Foreign Minister Mohammad Javad Zarif said on Sunday that the cooperation between the Islamic Republic of Iran and South Africa against apartheid has resulted in strong bonds between the two countries.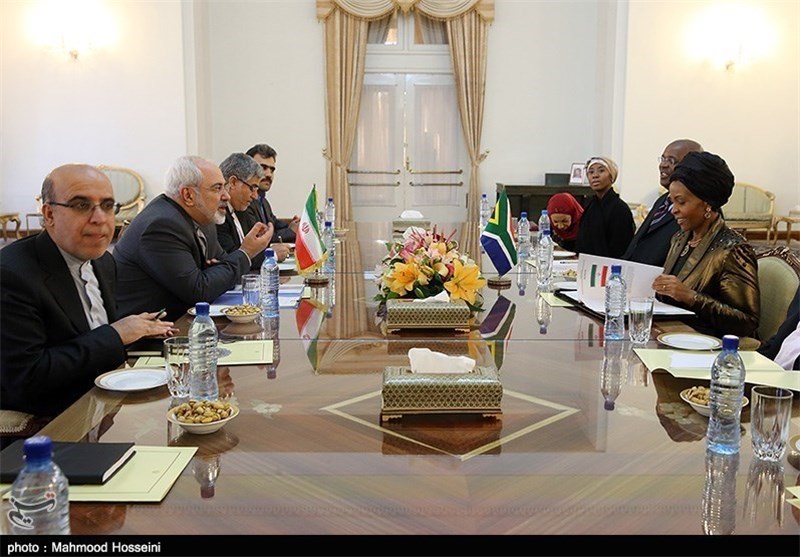 The minister's comment came during his meeting with South Africa's Minister of International Relations and Cooperation Maite Nkoana-Mashabane in Tehran.
Zarif stated that he has discussed bilateral relations as well as regional and international issues with his South African counterpart.
The Iranian foreign minister also announced that South African President Jacob Zuma would pay a visit to Tehran in a near future.
Elsewhere, Zarif pointed to the latest developments in the region, including the recent surge in terrorist activites, and stated, "Due to foreign countries' interferences in our region and also in Africa, we face terrorist threats."
On June 10, Iraq's northern Nineveh Province fell into the hands of militants from the so-called Islamic State of Iraq and the Levant (ISIL). The Takfiri (extremist terrorists') attacks have reportedly forced more than half a million people in and around Mosul, the capital of Nineveh Province, to flee their homes.
Takfiri militants have vowed to march toward the capital, Baghdad.
They are said to have entered Iraq from neighboring Syria and Saudi Arabia to undermine security in the country.