Algerian MP: Iran's Resistance Neutralized Western Sanctions
TEHRAN (Tasnim) - Iranian nation's resistance against the bullying policies of world powers counteracted the negative consequences of anti-Iran sanctions, said Filali Elgowainy, the head of Algeria-Iran Parliamentary Friendship Group.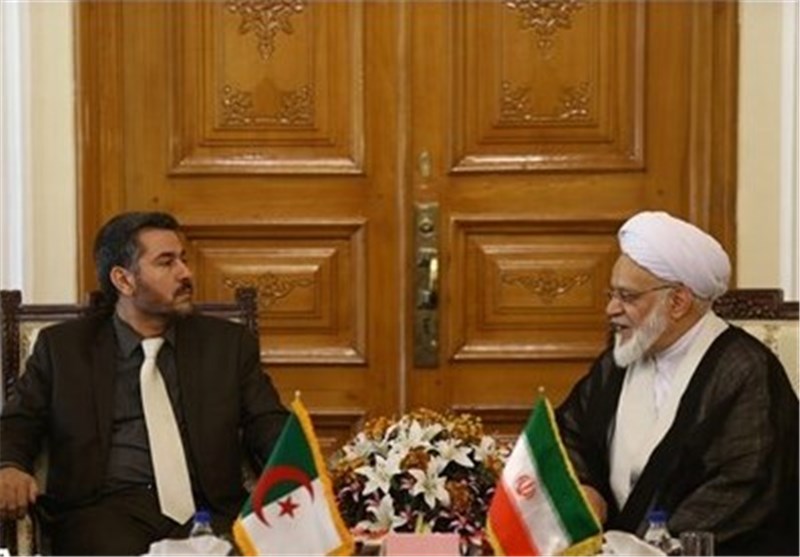 The Algerian lawmaker made the comments in a meeting with his Iranian counterpart Gholam Reza Mesbahi Moqaddam in Tehran on Sunday.
He described the US-led sanction against Iran cruel and said his country has always voted against such sanctions in the international gatherings.
The Iranian lawmaker for his part stressed that deep religious ties and common points between the two countries have provided a suitable ground for the expansion of bilateral cooperation in political, economic, and cultural spheres.
Mesbahi Moqaddam also stressed that the formation of friendship groups in the two countries' parliaments could help promote ties between Iranian and Algerian nations.
The seven-member Algerian parliamentary delegation arrived in the Iranian capital city of Tehran on Saturday at the invitation of Mesbahi Moghadam. The group is scheduled to meet Iran's Parliament Speaker Ali Larijani and the Chairman of the Parliament's National Security and Foreign Policy Commission Alaeddin Boroujerdi.
In 2000, diplomatic relations between the two sides were re-established by Algeria's Abdelaziz Bouteflika and Iran's then president Mohammad Khatami, after they were cut for nearly a decade. Earlier in August, Iranian President Hassan Rouhani said the Islamic Republic is completely ready to expand and deepen mutual relations with Algeria.