4 Killed as Ukraine Repels Rebels in East
TEHRAN (Tasnim) - Four soldiers have been killed and five wounded after Ukraine's military regained control of a checkpoint that had earlier taken over by separatists.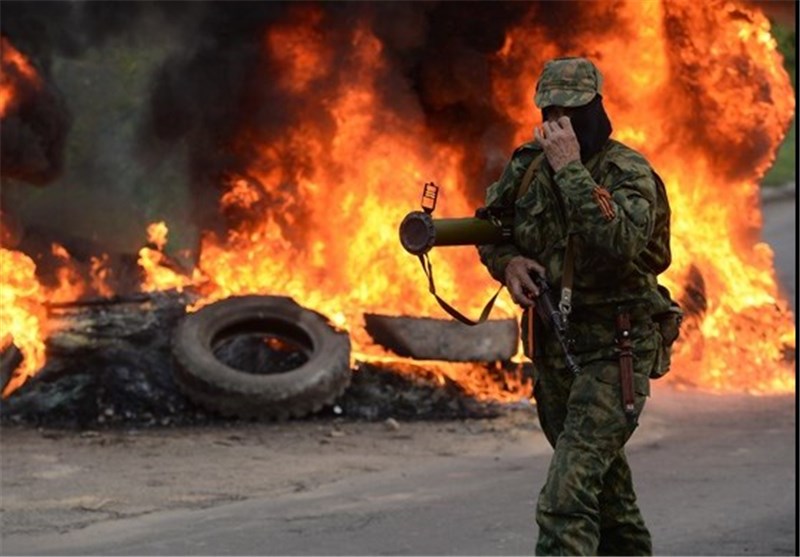 The fighting in the east erupted overnight on Friday in violation of a ceasefire agreement between the government and pro-Russian rebels that was to last until Monday.
Earlier on Friday, Ukraine's President Petro Poroshenko decided to extend the ceasefire, on the same day that he signed a trade agreement with the European Union - the deal that sparked the political crisis last year.
The ceasefire extension had been undertaken, it said, in line with a deadline set by EU leaders for Ukrainian rebels to agree to ceasefire verification arrangements, return border checkpoints to Kiev authorities and free hostages including detained monitors of the OSCE rights and security watchdog.
At a separate meeting, Poroshenko and national security chiefs said that during the next 72 hours recruitment centres for Russian fighters across the border in Russia should be closed.
The one-week truce had been due to expire on Friday at 19:00 GMT, and will now expire at 19:00 GMT on June 30, according to the presidential website.
Some 110,000 people have fled to Russia from Ukraine while more than 54,000 have been displaced inside the conflict-torn country, the UN said on Friday.
"Since the start of 2014, 110,000 Ukrainians have arrived in Russia," Melissa Fleming, spokeswoman for the UN's refugee agency, told reporters.
She said that most had fled from the embattled eastern regions of Donetsk and Lugansk, where Ukrainian forces are battling separatists, AFP reported.
But she underlined that it was not possible to say whether most or all of those fleeing to neighbouring Russia were from Ukraine's Russian-speaking population.
Claims that Russian-speakers in Ukraine are under threat have been cited regularly by the rebels and Moscow, though UN human rights probes have said there is little evidence for such fears.
"Only 9,500 have requested asylum. Most people are seeking other forms of legal stay, often because they're concerned about complications involving seeking asylum or since there might be reprisals if they return to Ukraine," Fleming said.