Thai Coup Leader Denies Conspiracy with Protesters
TEHRAN (Tasnim) - Thailand's junta-leading Army Chief dismissed allegations he plotted to seize power for years before May's coup, issuing an apparent rebuke to the leader of the protests that crippled the former government.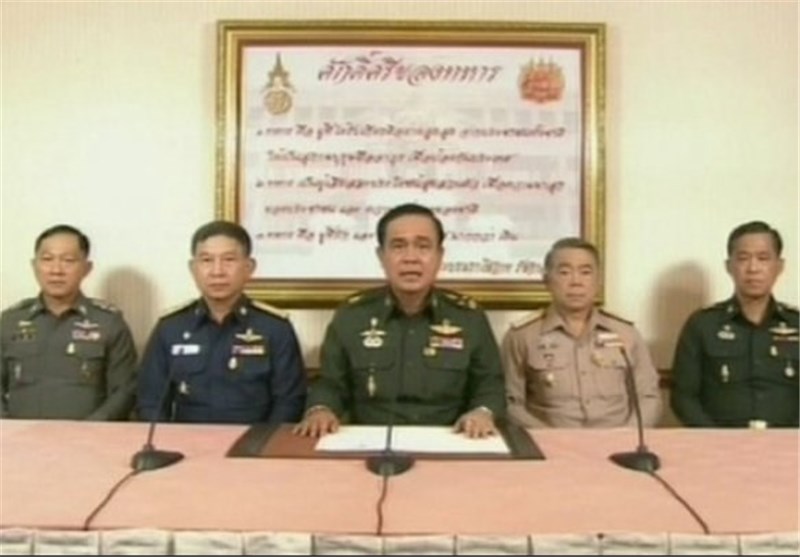 "It is not true" General Prayut Chan-O-Cha said, addressing accusations that he had discussed uprooting the divisive Shinawatra clan from politics with firebrand protest chief Suthep Thaugsuban.
"I did not join any process or take part with any side," Prayut said late Friday in a weekly television address to the nation.
While Prayut did not directly reference Suthep, he was prodded into the denial after reports that the protest figurehead told a charity dinner that he had been in talks with the army chief since 2010.
Shortly after Prayut's comments, Suthep took to Facebook to say he would cancel all future fundraisers -- starting on Saturday.
Supporters of ousted premier Yingluck Shinawatra have blamed a coalition of establishment-linked forces -- including the army and judiciary -- for colluding to overthrow the government, the second such army putsch in eight years.
But Prayut has been at pains to package his power grab as a necessary evil to restore peace and order after several months of protests by Suthep's supporters paralysed the government.
Twenty-eight people died and hundreds more were wounded in political violence linked to the protests, which also deflated the kingdom's once-buoyant economy.
The stern-faced general toppled the government on May 22, a fortnight after Yingluck was booted out off office by a controversial court ruling.
He has imposed martial law on the kingdom, suspended the constitution, muzzled dissent and detained or arrested hundreds of people -- mainly supporters of the former government.
"Political talks, fund-raising (activities) are forbidden.... it is a violation of martial law," Prayut warned in his regular Friday television speech.
Two senior members of the anti-government protests contacted by AFP refused to comment.