Zarif: Iran Ready to Help Tackle Myanmar Muslims Problems
TEHRAN (Tasnim) – Iranian Foreign Minister Mohammad Javad Zarif voiced deep concern on the conditions of Rohingya Muslims in Myanmar, saying that Tehran is ready to help resolve problems facing them.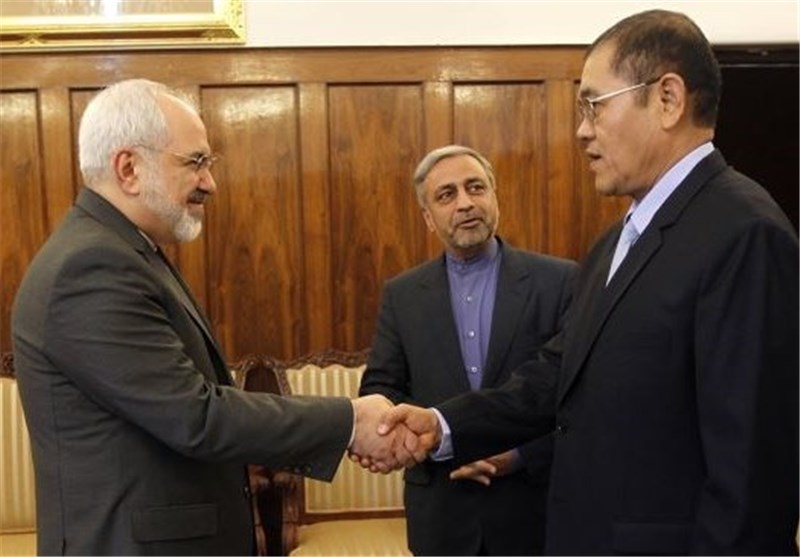 Iran is prepared to settle the problems of Muslims in Myanmar in cooperation with the country's government, Zarif said during a meeting with Myanmar's new Ambassador to Tehran U Aung Khin Soe on Monday afternoon.
Myanmar, a predominantly Buddhist nation of 60 million, has been gripped by sectarian violence in recent years, leaving hundreds of people dead and thousands homeless. The UN recognizes the Rohingya Muslims living in Myanmar's Rakhine State as one of the world's most persecuted communities.
The Iranian foreign minister also emphasized the importance of promoting Tehran-Naypyidaw ties in economic, cultural and social spheres and strengthening cooperation with the Association of Southeast Asian Nations (ASEAN).
Myanmar holds the rotating presidency of the ASEAN in 2014 for the first time after joining it.
ASEAN is a political and economic organization of ten countries located in Southeast Asia. It was formed on August 8, 1967, by Indonesia, Malaysia, the Philippines, Singapore and Thailand. Since then, membership has expanded to include Brunei, Myanmar, Cambodia, Laos and Vietnam.
During the meeting, the Myanmarese diplomat, who submitted a copy of his credentials to Zarif, stressed that his country welcomes investment by Iranian companies in Myanmar.
Myanmar supports Iran's membership in the Treaty of Amity and Cooperation in Southeast Asia and will consult with other member states in this regard, he added.