Commander: Iran's Navy Well-Prepared for Maritime Missions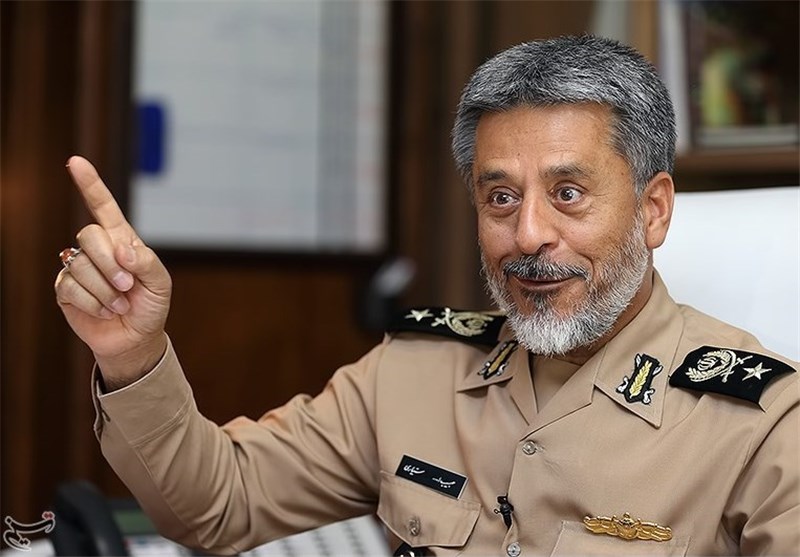 TEHRAN (Tasnim) – Iranian Navy commander reiterated that his forces maintain a "very good" state of readiness to carry out a broad range of naval missions.
Addressing a gathering of Navy commanders in Iran's northern port city of Anzali on Tuesday, Rear Admiral Habibollah Sayyari said the Iranian naval forces have so far accomplished all the missions they have been assigned to.
The top commander also unveiled plans to strengthen the Navy's presence in the Caspian Sea, saying a new home-made destroyer, dubbed "Damavand", will be launched in the near future.
He said the destroyer is now undergoing final tests and will soon join the country's fleet in northern waters.
Back in May, Sayyari had announced that the indigenous destroyer was equipped with naval drones and cruise missiles.
"We have been using sea-based Unmanned Aerial Vehicle (UAV) technology in the Navy and now have managed to equip Damavand Destroyer, which is undergoing final tests, with reconnaissance and combat UAVs," he had told the Tasnim News Agency.
Damavand is a domestically-built Jamaran class destroyer with unique specifics to meet the demands of the Iranian naval forces in the country's northern waters.
The 100-meter-long destroyer, weighing more than 1300 tons, is indeed an upgraded version of the Jamaran destroyer.
The Iranian Navy launched its first home-made destroyer, Jamaran, in the waters of the Persian Gulf in February 2010.
The 1,420-ton Jamaran is equipped with modern radar systems and other electronic warfare capabilities and has a top speed of up to 30 knots and a helipad.
Damavand, however, is longer but lighter than Jamaran destroyer, and enjoys more capabilities and weaponry, and has a higher capacity of crew.
The advanced destroyer is capable of tracking the aerial, surface and sub-surface targets simultaneously.