US, Britain Oppose France's Sale of Mistral Warship to Russia
TEHRAN (Tasnim) - Both US and Britain leaders spoke out against France's planned delivery of a second Mistral helicopter carrier to Russia after the downing of Malaysian Airlines flight MH17 in Ukraine.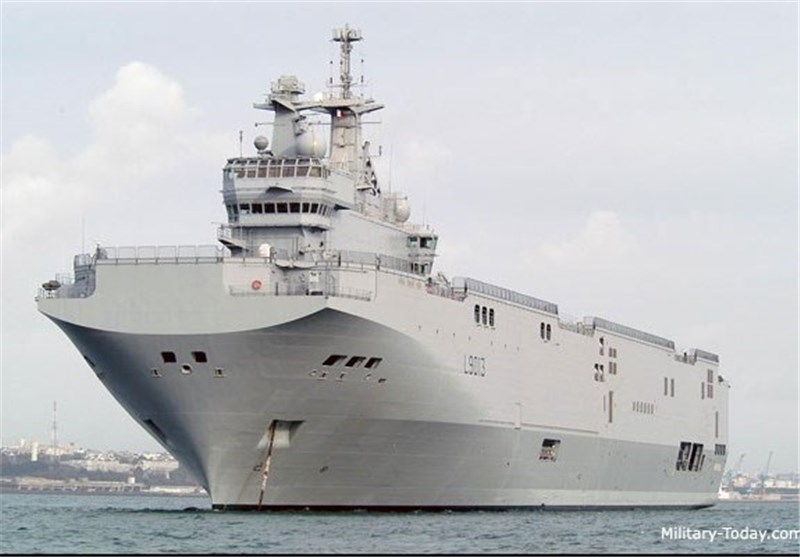 British Prime Minister David Cameron said that fulfilling such an order would be 'unthinkable' in Britain under the present circumstances, France24 reported.
"We need to put the pressure on (Russia) with all our partners to say that we cannot go on doing business as usual with a country when it is behaving this way," he told reporters.
The British leader said that the European Union should consider hard-hitting economic sanctions against Russia, including freezing the assets of President Vladimir Putin's closest allies whom he referred to as "cronies and oligarchs".
A senior US administration official concurred with Cameron, re-stating the opposition US President Barack Obama voiced against the deal back in June because of Russia's support for Ukrainian separatists.
French President Francois Hollande said on Monday that the decision on whether to deliver a second Mistral helicopter carrier to Russia will "depend on Moscow's attitude."
"For the time being, a level of sanctions has not been decided on that would prevent this delivery," Hollande said, speaking during a dinner with the presidential press corps.
"Does that mean that the rest of the contract - the second Mistral - can be carried through? That depends on Russia's attitude," Hollande added.
EU foreign ministers might agree to ratchet up sanctions on Russia when they meet on Tuesday, though targeting deliveries of defence equipment was not planned, a French government official told Reuters, speaking on condition of anonymity.