IAEA Chief in Iran for Talks
TEHRAN (Tasnim) – Head of the International Atomic Energy Agency (IAEA) Yukiya Amano arrived in Tehran on Sunday in an effort to advance cooperation between Iran and the UN nuclear watchdog.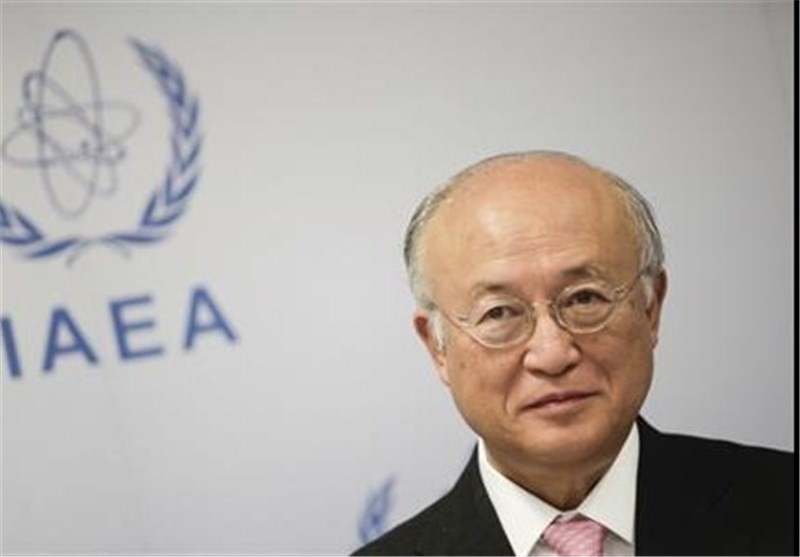 In his second visit to Iran over the past year, Amano is planned to hold talks with a number of Iranian officials, including President Hassan Rouhani.
In November 2013, the Japanese chief of the IAEA visited Iran at the invitation of Head of the Atomic Energy Organization of Iran (AEOI) Ali Akbar Salehi.
The two sides signed a joint statement at the time to outline a roadmap on bilateral cooperation on certain outstanding issues.
Under the deal, Iran agreed, on a voluntary basis, to allow the IAEA inspectors to visit the Arak heavy water plant and the Gachin uranium mine.
The IAEA inspectors had already visited the Arak heavy water production plant on December 8, 2013. And later on January 29, a 3-member team of the inspectors carried out an inspection of Gachin uranium mine in southern Iran.
In February, Iran voluntarily agreed to implement seven new practical measures by May 15 to allay concerns regarding its nuclear activities.
Amano's visit to Tehran comes ahead of the IAEA's August 25 deadline for Iran to provide the agency with a new set of information on its nuclear energy program.
On July 20, the IAEA's monthly report verified Iran's compliance with the terms of its interim nuclear deal with the Group 5+1 (the five permanent UN Security Council members plus Germany).
Iran and the sextet on November 24, 2013, signed an interim nuclear deal in the Swiss city of Geneva. The breakthrough agreement (the Joint Plan of Action), which came into effect on January 20, had given the parties extendable six months to draw up a comprehensive nuclear deal.
In July and after nearly three weeks of intensive diplomatic negotiations in the Austrian capital of Vienna, Iran and the group of six world powers (Russia, China, the US, Britain, France and Germany) agreed to keep holding talks on Tehran's nuclear program for four more months.
The parties decided to extend the nuclear talks until November 24 in the hope of clinching a final deal to resolve the decade-long standoff on Iran's nuclear energy program.
Iran, a signatory to the Non-Proliferation Treaty, considers nuclear enrichment an inalienable right, and has on numerous occasions reiterated that it wants nuclear energy for purely peaceful purposes, and that it is on religious, ethical and practical grounds opposed to nuclear weapons.