Iran's Missile Capability Non-Negotiable: Rouhani
TEHRAN (Tasnim) – Iranian President Hassan Rouhani reiterated on Sunday that the country's missile capabilities would never be subject to any negotiation in the course of talks on Tehran's peaceful nuclear program.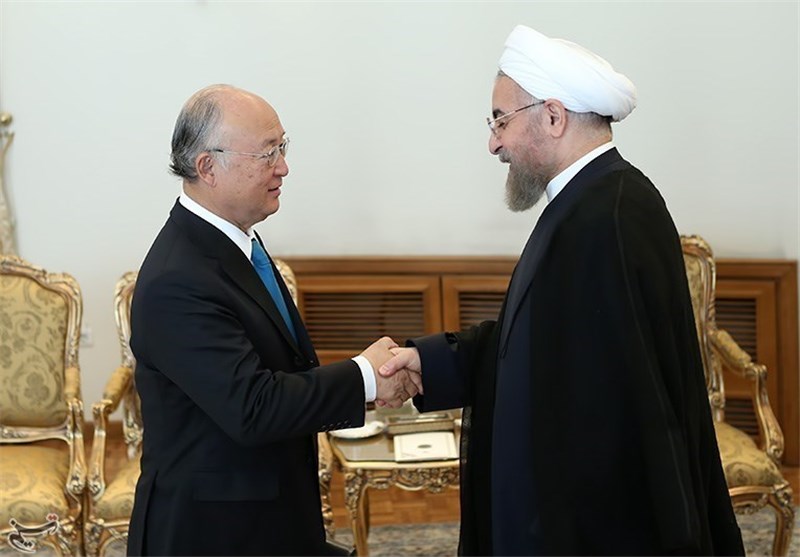 "Iran's missile capability is by no means negotiable at any level," Rouhani said in a meeting with Director of the International Atomic Energy Agency (IAEA) Yukiya Amano, here in Tehran on Sunday.
The president, however, noted that Iran has paved the way for the international body to monitor its peaceful nuclear activities as it has always been after transparent technical and legal cooperation with the UN nuclear watchdog.
Rouhani made it clear that Tehran considers the IAEA as the only authorized organization to monitor its nuclear energy program.
"We only accept the legal supervision by the International Atomic Energy Agency, which are within the framework of the NPT (Non-Proliferation Treaty) and the Safeguards Agreement and (view) any extralegal inspection as a heresy that will harm all developing countries," he stressed.
Rouhani expressed the hope that the IAEA, as an impartial organization, would contribute to the settlement of some "bogus ambiguities about Iran's nuclear activities".
Seeing a bright prospect for the cooperation between Iran and the IAEA, President Rouhani said the two sides can settle the standoff on Tehran's nuclear activities in less than a year with serious resolve.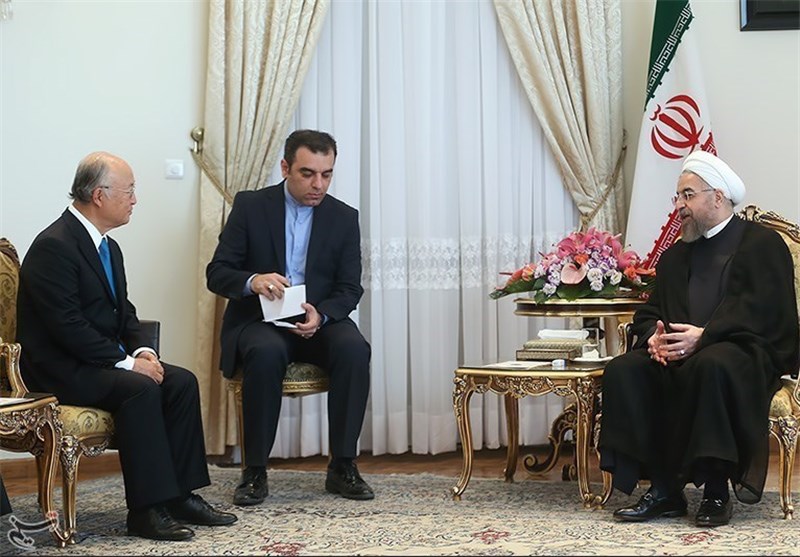 Commenting on the nuclear talks between Tehran and six world powers (the five permanent UN Security Council members plus Germany), President Rouhani said Iran "does not demand anything more than its rights, including (uranium) enrichment for peaceful purposes."
Once a final, comprehensive deal is hammered out, Iran will continue enriching uranium domestically based on its needs, the president added, noting that the other side will also have to remove the unilateral sanctions it has imposed on Tehran.
The visiting UN official, for his part, hailed the progressing cooperation between Iran and the IAEA over the past year.
Amano also expressed the hope for an immediate resolution of the remaining ambiguities over Iran's nuclear case under an agreement signed in 2013.
This is Amano's second visit to Iran over the past year. In November last year, the Japanese chief of the IAEA visited Iran at the invitation of Head of the Atomic Energy Organization of Iran (AEOI) Ali Akbar Salehi.
The two sides signed a joint statement at the time to outline a roadmap on bilateral cooperation on certain outstanding issues.
Under the deal, Iran agreed, on a voluntary basis, to allow the IAEA inspectors to visit the Arak heavy water plant and the Gachin uranium mine.