UN Soldiers Seized by Rebels in Golan Heights
TEHRAN (Tasnim) - Syrian armed groups, some of whom are linked to Al Qaeda, captured 43 UN peacekeepers on the Syrian side of the Golan Heights on Thursday and surrounded 81 others, the UN said.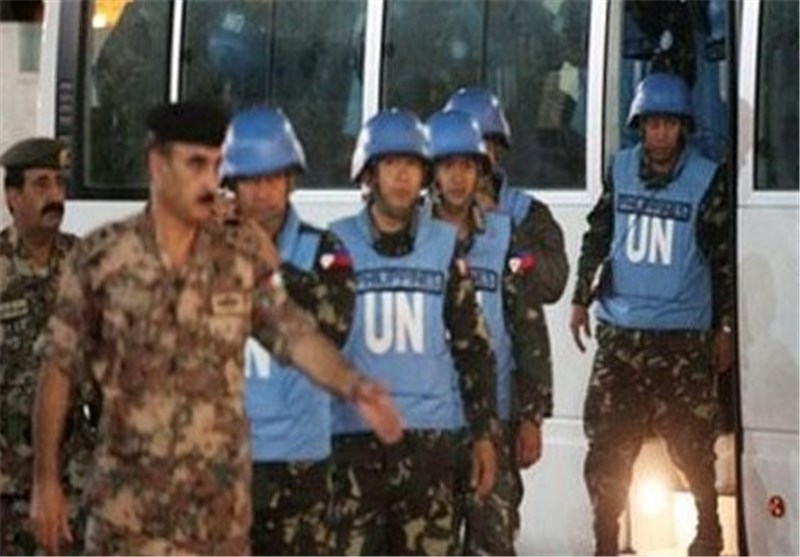 The 43 peacekeepers from Fiji were forced to surrender their weapons and taken hostage near the Quneitra crossing, but 81 Filipino blue helmets "held their ground" and refused to disarm, the Filipino defense department said.
"This resulted in a stand-off which is still the prevailing situation at this time as UN officials try to peacefully resolve the situation," said the statement from Manila.
Syrian rebels, including fighters from the Al Qaeda-affiliated Al-Nusra Front, stormed the crossing at Qune­itra on Wednesday, sparking an ex­change of gunfire with Israeli troops, AFP reported.
Quneitra is the only crossing between the Syrian and the Israeli-controlled sides of the strategic plateau.
The 81 Filipino troops were locked in a standoff near Ar Ruwayhinah and Burayqah, while the Fijian soldiers were taken to the southern part of the buffer zone, UN officials said.
UN spokesman Stephane Dujarric said it was unclear which group had staged the attacks. "Some groups are self-identified as affiliated to Al-Nusra but we are not able to confirm," he said.
In June 2013, there was a similar takeover of the crossing by rebel forces, but the Syrian army managed to regain control.
Six countries contribute troops to the 1,200-strong United Nations Disengagement Observer Force (UNDOF): Fiji, India, Ireland, Nepal, the Netherlands and the Philippines.
The Philippines, which has 331 troops serving in UNDOF, announced on Saturday that it would pull out of the peace force, citing security concerns.