Iran President Highlights Expansion of Ties with Central Asia
TEHRAN (Tasnim) – Iran attaches "special importance" to its relations with the Central Asian countries, President Hassan Rouhani told reporters before leaving Tehran for Kazakhstan on Monday.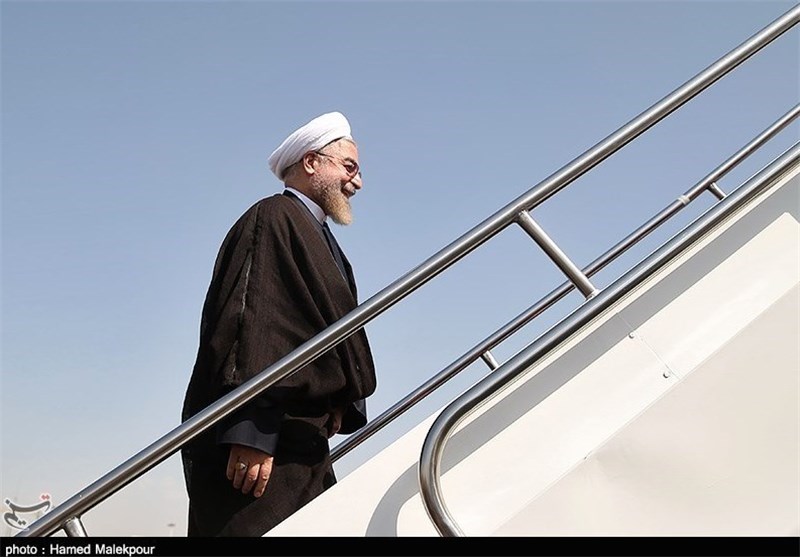 President Rouhani pointed to cooperation between Iran and the Central Asian nations in carrying out numerous joint projects and said, "The Islamic Republic of Iran is a significant route connecting the Central Asia to the high seas."
Commenting on the ties between Iran and Kazakhstan, the president said the two countries can forge stronger cooperation on the strategic, scientific, economic and technological grounds.
Given the fact that Iran and Kazakhstan are two Caspian Sea littoral states, they can cooperate in the fields pertaining to the water body, he added.
The president also noted that Iran is now implementing major projects in Tajikistan, saying there are abundant grounds for more cooperation between Tehran and Dushanbe.
Rouhani has started a 5-day tour of Central Asia that takes him to Kazakhstan and Tajikistan, where he will attend a summit meeting of the Shanghai Cooperation Organization (SCO).
The SCO is a political, economic and military organization which was founded in 2001 in Shanghai by the leaders of China, Kazakhstan, Kyrgyzstan, Russia, Tajikistan, and Uzbekistan.
Iran, Pakistan, Afghanistan, India, and Mongolia are observer states of the SCO.