Quebec Sovereigntists Seek Inspiration from Scotland's Referendum Campaign
TEHRAN (Tasnim) - For Alexandre Cloutier, the 37-year-old Parti Québécois politician and constitutional lawyer, next week's Scottish independence vote will serve as a deadline.
September, 13, 2014 - 16:00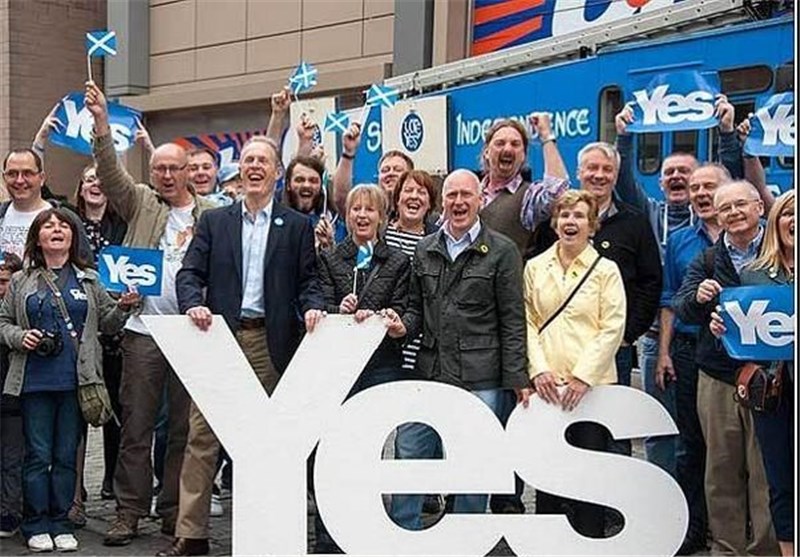 Upon his return, he will announce whether he'll run for his party's leadership. He also expects that seeing Scotland's Yes side in action will confirm some notions he already has about the path to Quebec sovereignty.
Among the things he wants to understand is the success the independence movement has had convincing Scotland's minority groups to support their cause — a perpetual challenge in Quebec, where immigrants often adopt a Canadian identity even if they express it in French.
"It's obviously, for me, a source of inspiration and maybe the start of a solution that is necessary for our own movement in Quebec," he said in an interview.
Pierre Lessard-Blais, 29, is going to Edinburgh, the Scottish capital, to relive an idea that is dear to his heart — one that he missed out on as a Grade 3 student at the time of the 1995 Quebec referendum, The Star reported.
"Of course I'd like the Scottish to say yes to independence, just because of my own political convictions. But it's also going to help me understand an important episode in the history of Quebec that I was too young to take part in," he said ahead of his Saturday departure.
Lessard-Blais will be joining four dozen other young Quebecers — mostly politically involved sovereigntists like himself — who have rented a house in Edinburgh to serve as their ringside seat to Thursday's vote.
Those already there have been travelling the craggy country, meeting with academics, analysts, political organizers with the Yes and No camps and brushing up against the very people whose ballots will decide the fate of the United Kingdom.
It is an independence pilgrimage for people in a province of ever-present referendum angst, even if that dream has never seemed such a distant possibility.
"It's never far from the surface," said Jean-François Lisée, a PQ strategist and presumed frontrunner for the party's leadership. "It's dormant, but it has a very light sleep."
After a crushing election defeat for the PQ last April, two likely leadership candidates, Bernard Drainville and Pierre Karl Péladeau, travelled to Scotland independently over the course of the summer, perhaps as much to forget their sorrows as to taste what was once so close and is now so far away.
Earlier this month, Drainville proposed a three-step plan for his party to win back power in 2018, make the case for independence in a four-year mandate and, after re-election, hold a independence referendum in 2023.