Libya Meeting Rejects Military Intervention
September, 18, 2014 - 16:01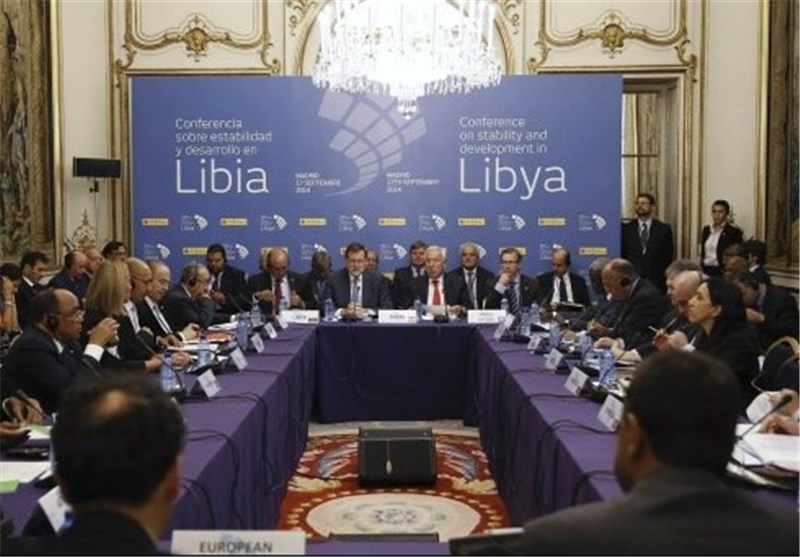 TEHRAN (Tasnim) – Libya's struggling elected government and representatives of 15 neighboring nations have unanimously rejected the idea of military intervention as a way to restore stability in the oil-rich North African nation, which some say is on the brink of civil war.
Meeting in Madrid on Wednesday, officials from countries surrounding Libya and to its north across the Mediterranean concluded "there is no military solution to the current crisis".
Libya currently has two competing parliaments and governments.
The government and elected House of Representatives last month relocated to Tobruk after an armed group from the western city of Misrata seized the capital Tripoli and most government institutions, as well as the eastern city of Benghazi.
The rival previous parliament remains in Tripoli and is backed by militias.
The conference began as Libya's acting prime minister sought to reassert his authority by naming a new cabinet and some legislators threatened to veto his choices.
Abdullah al-Thinni's administration, functioning from Tobruk, has failed to control militias who backed the rebellion to toppled long-time ruler Muammar Gaddafi in 2011, then kept their weapons and started to stake claims on territory, oil and other resources.
Politicians said he asked parliament to approve a new 16-strong cabinet, including Farida Allaghi, a human-rights activist, as foreign minister - his first new government since he was re-appointed as acting premier earlier this month.
Speaking at the Madrid conference, Jose Manuel Garcia-Margallo, Spanish foreign minister, said that the status quo puts Libya in a position where it could slide into a Syria-style civil war, Al Jazeera reported.
Mohamed Abdulaziz, Libya foreign minister, offered no specifics on how his government could regain control of Tripoli but said he did not believe a recent series of mysterious air strikes in Libya or future air strikes would shift the balance of power.
"We are convinced that is impossible for us to overcome terrorism only through air strikes," Abdulaziz said in Madrid.
Abdulaziz said his government is "not inviting any country to do any kind of military intervention in Libya. What we have seen is foreign intervention has always lead to disaster".