Iran, Syria Stress Cooperation against Takfiri Terrorists
TEHRAN (Tasnim) – Secretary of Iran's Supreme National Security Council (SNSC) Ali Shamkhani and Syrian President Bashar al-Assad highlighted the necessity for "strategic cooperation" between Tehran and Damascus to counter the threat of Takfiri terrorism.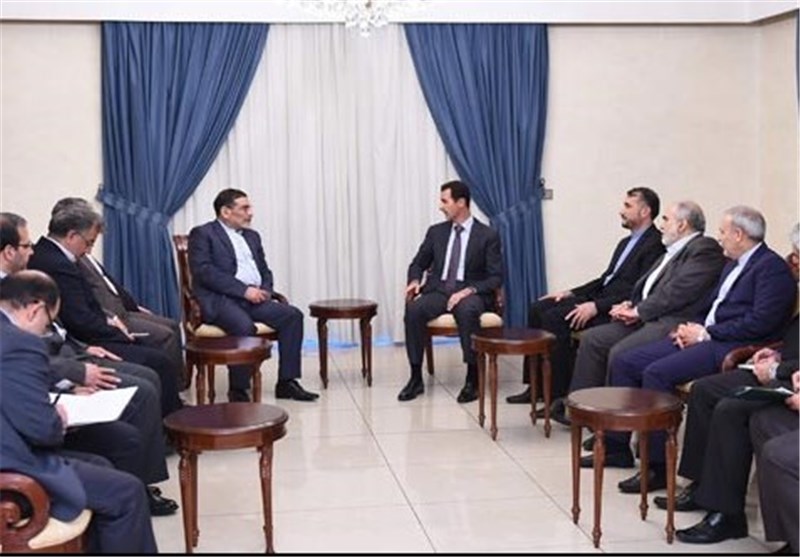 Heading a senior security and political delegation, the Iranian official met with Assad in Damascus on Tuesday.
During the meeting, the both officials underlined that countering terrorism should comply with the international law.
They also insisted that the fight against terrorism requires mutual cooperation by the whole regional countries, and dismissed the West's double standard policies towards counter-terrorism, particularly the US policies, SANA reported.
"Combating terrorism cannot be carried out by states that contributed to establishing terrorist organizations, provided them with logistic and material support, and spread terrorism around the world," President Assad said.
Shamkhani, for his part, renewed Iran's unwavering support for the Syrian nation in their battle against foreign-backed terrorism.
"The principled stance of the Islamic Republic of Iran in providing full support for the friendly and brotherly country, Syria, which is on the frontline of the fight against terrorism, will continue with seriousness," he noted.
Syria has been gripped by deadly unrest since 2011. The UNHCR said in its annual Global Trends report in June that Syrians fleeing the escalating conflict accounted for most of the world's 2.5 million new refugees in 2013.
In all, nearly 3 million Syrians have crossed into neighboring Lebanon, Turkey, Iraq and Jordan, while another 6.5 million remain displaced within Syria's borders, according to the report.