Enemy Seeking Strife among Muslims to Secure Zionist Regime: Leader
TEHRAN (Tasnim) – Supreme Leader of the Islamic Revolution Ayatollah Seyed Ali Khamenei underlined the importance of Muslim unity and warned that the enemy is trying to foment discord and strife in the Muslim world in order to ensure security for the Zionist regime of Israel.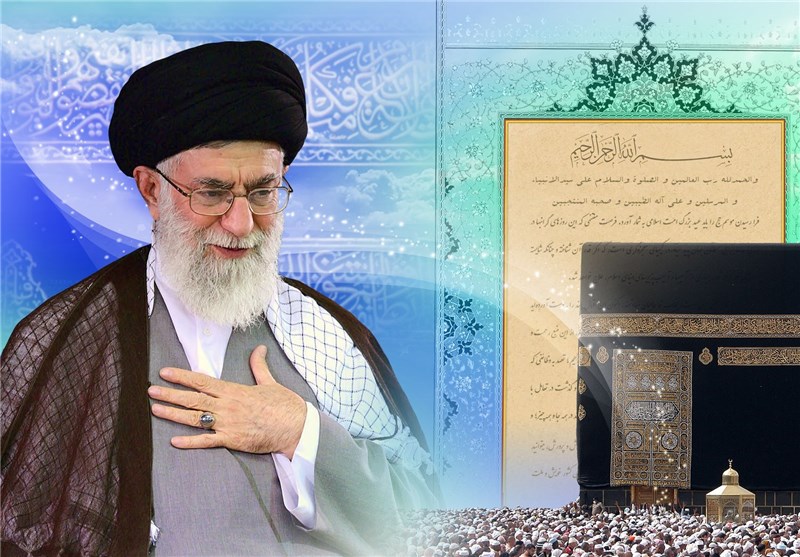 "The conspiring enemy is aiming to stoke the fire of a civil strife among Muslims, to misdirect the motivation for resistance and jihad and to secure the Zionist regime and the servants of arrogance – who are the real enemies," the Leader said in a message to the Hajj pilgrims on Friday.
Ayatollah Khamenei referred to instigating terrorist Takfiri and similar groups in West Asia as some of the abhorrent policies of the enemy.
"The filthy hands of imperialist politicians have for some time now placed division on the agenda in order to pursue their sinister interests, and today with the blessing of the Islamic Awakening, Muslim people have correctly recognized the enmity of the imperialist and Zionist front and they have taken a stance against them while the policies of division between Muslims have intensified," part of the message read.
The Supreme Leader underscored that today "unity among Muslims and untying the knots of separation among some parts of the Islamic Ummah is a priority and important matter. Hajj is the manifestation of unity and harmony and the focal point of brotherhood and mutual help. During Hajj, all have to learn the lessons of focusing on commonalities and rejecting differences."
Elsewhere in the message, Ayatollah Khamenei pointed to the issue of Palestine and said, "With the passing of 65 years since the establishment of this murderous Zionist regime and the various ups and downs in this important and sensitive issue, and particularly with the bloody events of the past year, two realities have become clear for all. The first reality is that the Zionist regime and its criminal supporters recognize no limit or boundaries regarding viciousness, cruelty, and trampling underfoot all human standards and ethnics. Crimes, genocide, mass destruction, the killing of children, women and the homeless and any violation and oppression that they can commit, they not only make permissible for themselves, but more so, they take pride in. The tear-inducing scenes of the recent 50-Day War in Gaza are the latest example of the historic crimes which have been repeated numerous times in the last half century."
As for the second reality, the Supreme Leader stressed that "this disaster and calamity has not led to the results that the leaders and supporters of that murderous regime wanted. Contrary to the idiotic dreams of power and stability for this regime that the filthy officials of the Zionist regime dream, day-by-day this regime has moved closer to implosion and annihilation."