Brazil's President Forced into Run-Off Race
TEHRAN (Tasnim) - Brazil's leftist incumbent Dilma Rousseff came at the top of the presidential elections but has not gained enough votes to avoid a run-off and will face Aecio Neves, pro-business rival.
October, 06, 2014 - 10:08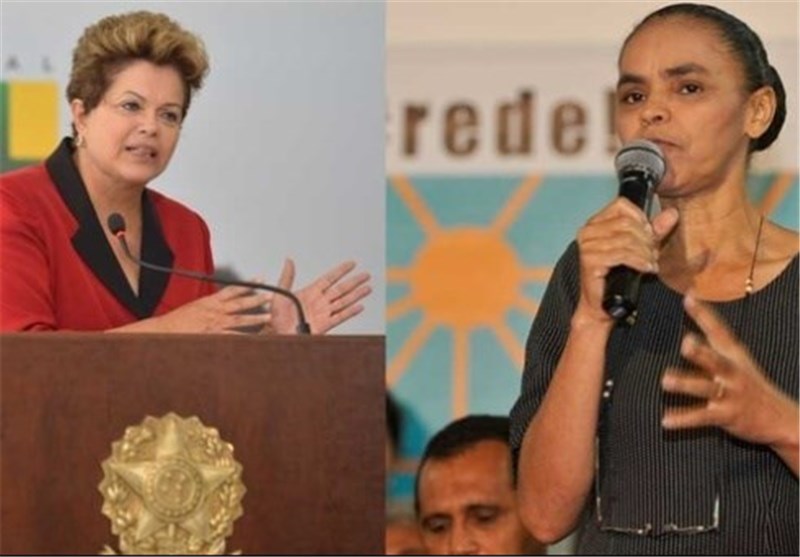 With all of votes counted on Monday, Rousseff led with 41.5 percent support compared with 33.6 percent for Neves.
Neves surged sharply in the pre-election period after intense campaigning with emphasis on "safe change".
His record as a popular two-term governor seems to convince enough opposition voters that he was the surest bet to try to unseat Rousseff, who has presided over a long economic slump but remains popular among the poor.
Marina Silva, a prominent environmentalist who had recently led opinion polls but saw her support collapse late in the campaign, was in third place with just 21 percent of votes.
Since no candidate expected to win a majority of valid votes, the top two finishers will face each other in a second round on October 26, Al Jazeera reported.
The match-up, which polls show Rousseff is favoured to win, will pit her emphasis on robust social programmes and state intervention in the economy against Neves' vision of greater trade and a more austere state.
Silva, a former environment minister in Rousseff's Workers Party (PT), had as recently as late last week seemed like Rousseff's probable challenger.
But her campaign abruptly fell apart under a barrage of negative ads that accused her of flip-flopping on issues like taxes and gay marriage.
Rousseff accused Silva, seeking to be her country's first black leader, of seeking to rein in some of the PT's flagship welfare programmes which have lifted tens of millions out of extreme poverty over the past decade.
Neves, the favourite of a business community demanding root and branch economic reform, meanwhile sought to paint Silva, whom he trailed by 20 percent in projections four weeks ago, as a PT clone in debates just before the vote.