HK Protesters Plan Fresh Show of Force after Talks Collapse
TEHRAN (Tasnim) - Hong Kong protesters are planning a fresh show of force Friday evening after talks with the government dramatically collapsed and US lawmakers urged President Barack Obama to press concerns about the city's democracy fight with Beijing.
October, 10, 2014 - 12:39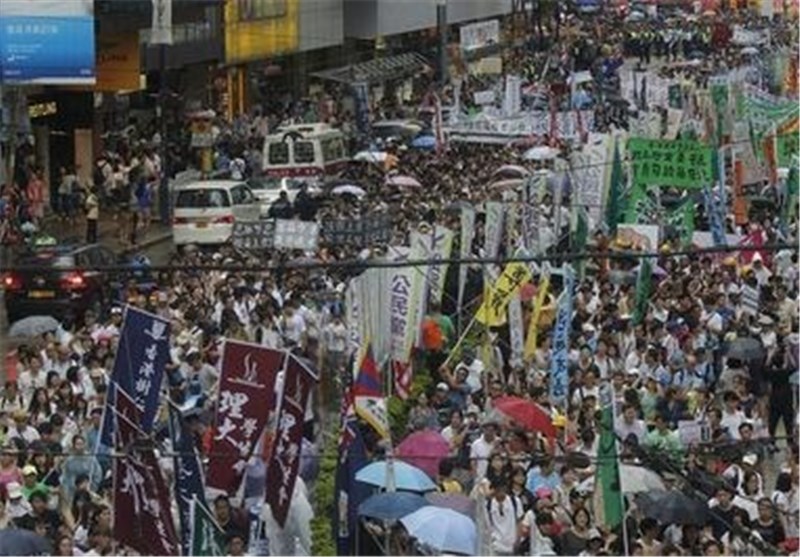 Crunch talks between protesters and Beijing-backed city officials were planned for Friday afternoon, but fell apart late Thursday after the government pulled out blaming student leaders for threatening to escalate demonstrations if their demands were not met.
The decision deepened the ongoing political crisis in the Asian financial hub, with no end now in sight to mass rallies that have paralysed parts of the city for nearly two weeks, AFP reported.
Demonstrators are calling for Beijing to grant the former British colony full democracy and for the city's Chief Executive Leung Chun-ying to resign.
Under plans unveiled by China in August, Hong Kongers will be able to vote for Leung's successor in 2017, but only two to three vetted candidates will be allowed to stand -- something detractors have dismissed as a "fake democracy".
Although protester numbers have dwindled in recent days, the collapse of the talks has spurred pro-democracy activists to push for new mass rallies over the weekend, with thousands expected to gather at 7.30 pm (1130 GMT) Friday outside the city's government headquarters.
The call came as protesters won powerful US backing overnight in a damning annual report from legislators condemning China's human rights record and making a highly-critical and unusual rebuke over Hong Kong.
"Hong Kong... has suffered a major setback to its democratic development after China all but ruled out a fair election for Hong Kong's chief executive in 2017," said Senator Sherrod Brown, chairman of the Congressional-Executive Commission on China.
Obama, Brown added, should press Chinese President Xi Jinping directly on "issues like Hong Kong" when the leaders of the world's two major economies meet next month in Beijing.
China has repeatedly warned against any foreign government interfering in events inside the former British colony and global commerce hub, which it views as an entirely domestic issue.