Thousands Stand Up against Police Brutality in Ferguson, St. Louis
TEHRAN (Tasnim) - Hundreds of protesters, standing in front of the Ferguson police department, demanded justice for Mike Brown, a black teenager killed by a white cop. Rallies in downtown St. Louis have drawn thousands, all standing up against police brutality.
October, 12, 2014 - 11:51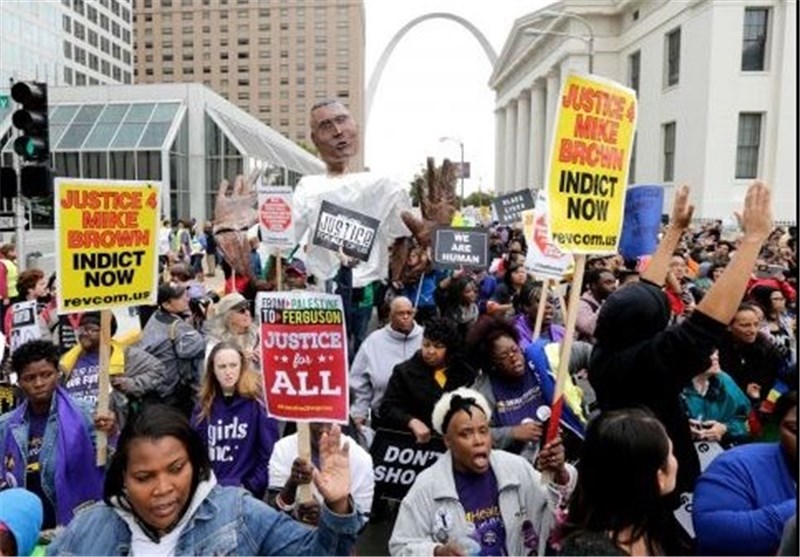 The mother of Michael Brown, who was killed in the August 9 shooting, marched with a group of some 300 people on Ferguson police department on Saturday afternoon.
Earlier in the day, crowds numbering over 3,000, protested against police brutality downtown St. Louis in a so-called 'Justice for All' march and rally, RT reported.
The huge gathering drew civil rights activists demanding for charges to be brought against a white police officer who killed the unarmed African- American exactly two months ago. The protest comes as a part of the Weekend of Resistance scheduled from Friday through Monday.
Local media reported quite a mixed crowd from the scene, as various groups invited people from all across the nation to join vigils and rallies. Some people travelled hundreds of miles to participate in Saturday's 12 mile hike from Ferguson, Missouri, to a downtown St. Louis plaza.
Popular Hip-Hop artists like Talib Kweli, dead prez, Jasiri X and others are in the St. Louis area to support the crowd.
"We still are knee deep in this situation," said Kareem Jackson, a St. Louis rap artist aka Tef Poe. "We have not packed up our bags, we have not gone home. This is not a fly-by-night moment. This is not a made-for-TV revolution. This is real people standing up to a real problem and saying, 'We ain't taking it no more.'"
The crowd was significantly larger than the ones seen at Friday's protests in Ferguson and Clayton, Missouri. On Saturday, many protesters moved to the St. Louis neighbourhood of Shaw where another black 18-year-old, Vonderrit Myers, was shot 17 times and killed by an off-duty St. Louis cop in what police described as a return fire.