Cleric Warns Riyadh of Heavy Costs of Death Sentence for Sheikh Nimr
TEHRAN (Tasnim) – Tehran's Provisional Friday Prayers Leader Ayatollah Ahmad Khatami cautioned Saudi Arabia about the consequences of possible execution of the prominent Shiite cleric, Sheikh Nimr al-Nimr, saying that the move would cost Riyadh dearly.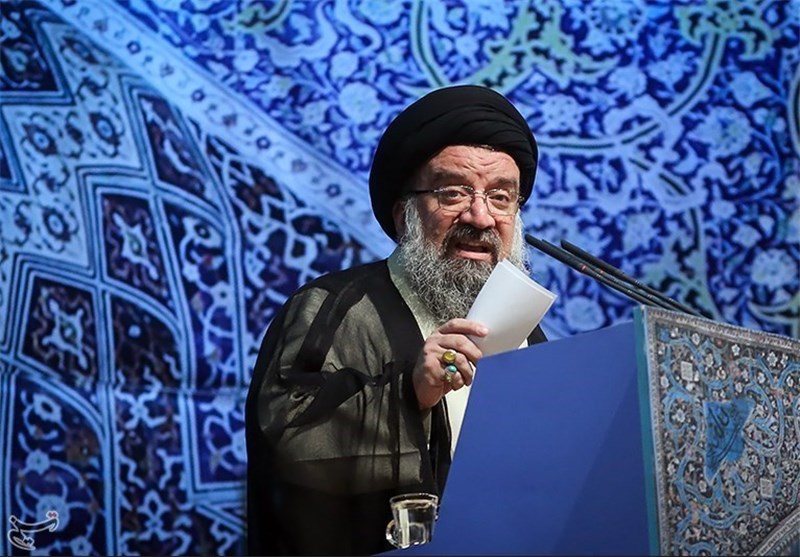 Addressing a large congregation of worshippers here in Tehran on Friday, Ayatollah Khatami described the death penalty for Sheikh Nimr as "tyrannical", and said his crime was support for the Bahraini revolutionaries and Shiite Muslims in Saudi Arabia.
He warned the Saudi Arabian authorities of the aftermath of the execution of Sheikh Nimr, saying, "His execution would be followed by heavy costs and bad consequences for you (Saudis)."
The senior cleric further said that human rights officials, who criticize Iran for death sentence on murderers, have remained silent about Sheikh Nimr's death penalty, and added that is a kind of human rights desirable to the US.
Sheikh Nimr was detained in July 2012 following demonstrations that erupted in February 2011 in Qatif region. He is accused of delivering anti-regime speeches and defending political prisoners.
On Wednesday, Nimr was sentenced to death at the Specialized Criminal Court in the Saudi capital Riyadh. In reaction to the sentence, people took to streets in the city of Qatif in Eastern Province to condemn the move.
He is the Imam of al-Awamiyya mosque in Qatif and has spent most of his two-year detention in solitary confinement at the al-Ha'ir prison in Riyadh, according to Amnesty International.