Saudi Court Sentences Another 2 Protesters to Death
TEHRAN (Tasnim) - Saudi Arabia has once again sentenced more protesters to death, this time on charges of participating in anti-regime demonstrations and acting against the security codes of the kingdom.
October, 22, 2014 - 16:12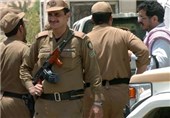 A court in the Saudi capital Riyadh issued the death sentences for two protesters and a 12-year prison term for a third individual, the Saudi Press Agency reported without naming the accused, going on to clarify that the verdicts were issued "as a deterrent to others".
The Saudi official news agency further said the protesters were tried on charges including "participating in marches and rallies that caused riots" in Awamia, a village situated in Al-Qatif region in the Eastern Province of Saudi Arabia.
"Chanting slogans hostile to the state with the intent of breaching security and overthrowing the regime," launching attacks on Saudi security forces and taking medical supplies from a pharmacy were also among the accusations made against the protesters.
The latest rulings come after Saudi Shiite cleric, Sheikh Nimr Baqir al-Nimr, was sentenced to death at the Specialized Criminal Court in the Saudi capital on October 15.
Amnesty International has called the death sentence for Sheikh Nimr "appalling," saying the verdict should be quashed since it is politically motivated, Press TV reported.
The Persian Gulf monarchy has come under fire from international human rights organizations, which have criticized it for failing to address the appalling human rights situation in the kingdom. Critics say the country shows zero tolerance for dissent.
In January, Joe Stork, the deputy director of the Middle East and North Africa division for Human Right Watch, slammed Saudi Arabia's crackdown on activists in the kingdom.
Stork also questioned the election of Saudi Arabia as a member of the Human Rights Council last November, pointing out that Riyadh has a record of repression and its membership is not warranted.
Saudi Arabia is an absolute monarchy that does not allow any elections.