Iraqi Security Forces, Kurds Gain Ground against ISIL
TEHRAN (Tasnim) - Iraqi government forces seized control of the strategic town of Jurf al-Sakhar near Baghdad from Islamic State in Iraq and the Levant (ISIL) and Kurdish fighters made gains in the north after heavy coalition air strikes against the group.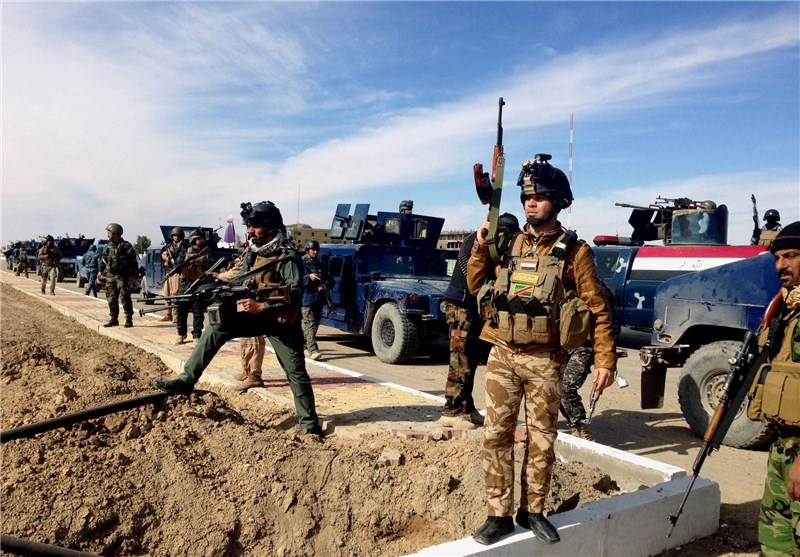 Iraqi troops broke the grip of ISIL in Jurf al-Sakhar after months of fighting against insurgents determined to march on the capital.
"Our forces with the support of the volunteers are in total control over Jurf al-Sakhar now and the terrorists fled to the southwest areas of the town," a spokesman for security forces there said.
A victory could allow Iraqi forces to prevent the insurgents - positioned in several locations around Baghdad - from edging closer to the capital, sever connections to their strongholds in western Anbar province and stop them infiltrating the south.
The security officials said the insurgents fled to the two nearby villages of al-Farisiya and Hay al-Askari and were still attacking with sniper fire and mortars. Government forces were preparing for a major overnight operation against them, Reuters reported.
In the latest fighting, 67 members of the Iraqi security forces and Shiite militias as well as 300 ISIL fighters were killed, the officials said.
It was not possible to get independent verification of the casualty tolls in the town 60 km (40 miles) south of Baghdad.
The Kurds also retook the town of Zumar and several nearby villages from early on Saturday after heavy coalition air strikes against the insurgents, security sources said.