Army Chief Takes Power in Burkina Faso
TEHRAN (Tasnim) - Blaise Compaore, the president of Burkina Faso, has been forced to leave power after days of protests by tens of thousands of people calling for his ousting.
November, 01, 2014 - 10:23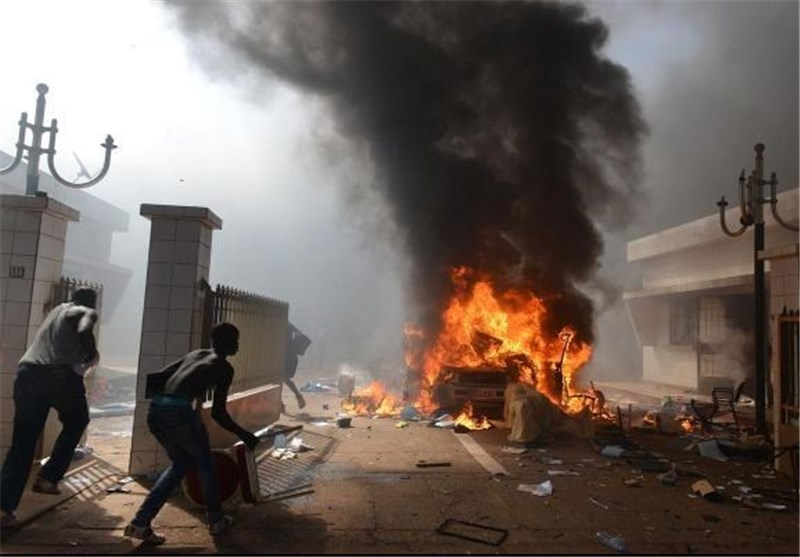 It appeared that the chief of the country's armed forces took power after the president's resignation.
Compaore announced his resignation in a statement on Friday and called for a 90-day transition to "free and transparent" elections in the West African country.
"I declare a vacancy of power with a view to allowing a transition that should finish with free and transparent elections in a maximum period of 90 days," said the statement, read on local radio and television by presenters.
Crowds danced and cheered in the capital, Ougadougou, blowing on whistles after Compaore's statement was broadcast. The mood cooled, however, as it became plain that military chief General Honore Traore had taken over the reins of power.
"In line with constitutional measures, and given the power vacuum ... I will assume as of today my responsibilities as head of state," Traore said in a statement.
Arsene Evariste Kabore, the former editor-in-chief of Burkina Fasao's state TV, told Al Jazeera that protesters remained in gathered in a square outside the military barracks after Traore's announcement.
"People are not satisfied," he said. "They are waiing for another president."
"The general is linked to Compaore, and they don't want anyone linked to Compaore to lead the country. They say they will not leave the streets."
Kabore and foreign diplomats said the deposed president had left the capital on Friday, travelling towards the southern town of Po, near the border with Ghana.
Compaore had been in power since a 1987 coup against then-President Thomas Sankara, Compaore's longtime friend and political ally, who was shot dead.