Iran's President Makes Landmark Visit to Azerbaijan
TEHRAN (Tasnim) – Iranian President Hassan Rouhani began a trip to the Republic of Azerbaijan on Wednesday aimed at strengthening Tehran-Baku ties and bolstering Iran's interaction with Caucasus, the region he described as the gateway to Europe.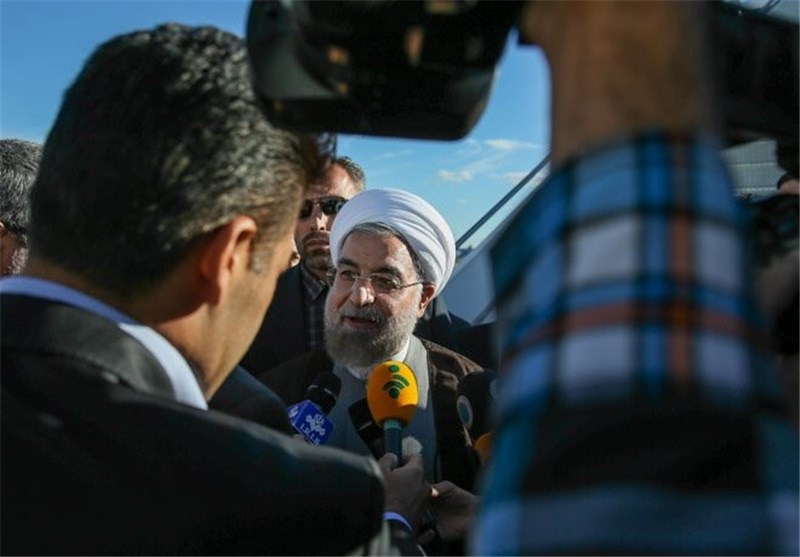 Among the main purposes of the visit to Azerbaijan is expansion of relations with the neighboring country and also promotion of regional and international cooperation between Tehran and Baku, President Rouhani told reporters at Tehran's Mehrabad Airport before flying to Baku.
The president also pointed to a whole host of opportunities of coopweration between Iran and Azerbaijan, saying, "The issues relating energy and the Caspian Sea legal regime, resources under the sea bed, environment, fishery, border cooperation, tourism, trade and commerce are the proper fields that we can activate for the two countries' interests."
He also highlighted the regional position of Iran and Azerbaijan, and said, "The Caucasus is deemed a bridge to northern and eastern Europe for Iran and Iran is also an appropriate link for the Caucasus."
Rouhani said he will also hold talks on the regional problems, such as the threat of terrorism, during his stay in Azerbaijan.
Back in April this year, Azeri President Ilham Aliyev paid a visit to Tehran to consult with senior Iranian officials on bilateral and regional issues and enhancement of mutual relations.
High-ranking officials from the two countries signed three memoranda of understanding and a cooperation agreement during his visit to Iran at the time.
Trade turn over between the two countries amounted to $281.03 million in 2013, which is 6.13 percent higher than the year before.