Iranian Cleric: Muslim Scholars Share Common Views on Extremism
TEHRAN (Tasnim) – A prominent Iranian cleric emphasized that Muslim scholars' views on the issue of Takfirism (extremism) are close and all of them stress the importance of unity among Muslims to counter the phenomenon.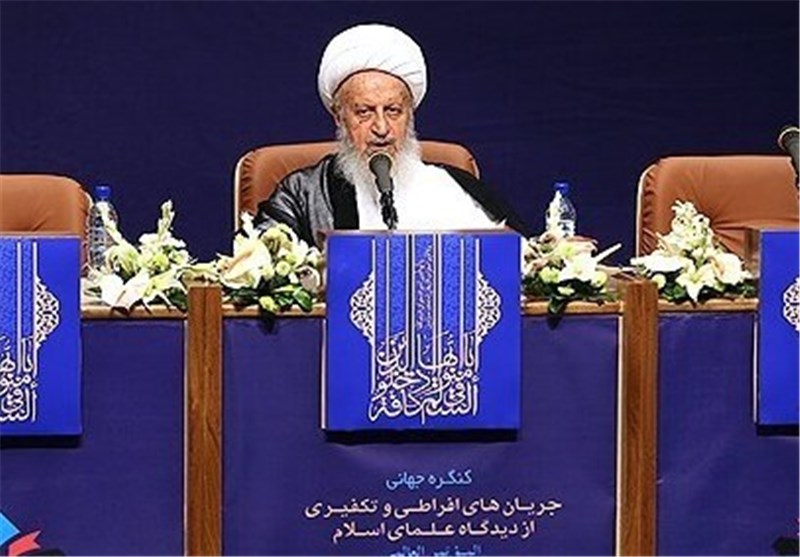 In a meeting with a group of Sunni Muslim scholars in Iran's central holy city of Qom on Sunday evening and on the sidelines of an international conference on threats of Takfirism, Ayatollah Makarem Shirazi hailed the stances adopted by the scholars participating in the conference against Takfiri groups.
"There was a consensus of opinion among all scholars, who participated in the conference from different countries, about the issue of fighting deviant ideas and Takfirism," the Iranian cleric said.
He also said that the scholars have in their comments attached great significance to the unity and solidarity among Muslims.
As regards the conference in Qom, Ayatollah Makarem Shirazi emphasized that such conferences would continue in future, and expressed the hope that the efforts would continue until the elimination of the Takfiri movements.
Muslim scholars from various sects, including Shiites and Sunnis, and from 83 countries have gathered in the holy city of Qom on Sunday to take part in the international conference, which will end today.
The gathering was aimed at countering Takfiri groups and calling for peace, friendship, brotherhood and interaction among different faiths.
The conference also aimed to shed light on the West's plots against Islam given the westerners' support for Takfiri groups.